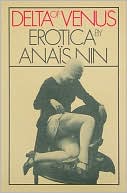 June 7: On this day in 1977 Anaïs Nin's Delta of Venus was published, and on this day in 1980 Henry Miller died. Delta of Venus was originally written as Nin's contribution to the dollar-a-page pornography that she, Miller, and others contracted to write for an anonymous client in the 1940s. Although much of it was taken from or inspired by her journal, Nin viewed her pornography work as a detraction from the feminist-literary image she wished to promote, but she eventually became convinced that her erotica might help support her two surviving husbands, and she reluctantly agreed to posthumous publication. The convincing was done by one of the husbands, who would also bring to market the second volume, Little Birds, as well as four new volumes of diaries, and the diary-based Henry and June and Incest.
Delta of Venus became Nin's first bestseller, regarded by some as a uniquely feminine and sensitive contribution to its genre. The pornographer who originally bought the material had complained of this, telling Nin to cut the poetry. This led to the kind of life-art intercourse which few but Nin could manage: in her 1941 journal she records that, while editing the "erotic madness days" recorded in her 1930s journals in order to make them graphic enough for her pornographic boss, she became so excited that "I had an orgasm while I wrote, then I went to Henry and he was passionate, then to Gonzalo who was passionate. Responded to both."
Miller found the pornographer's hundred-pages-a-month job to be "hard labor," the pornographer found the bizarre tales he invented unsatisfactory, and Miller quit before he was fired. But there was a life-art spin-off for Miller too. His last relationship, while in his mid-eighties, was with Brenda Venus, a young woman from Biloxi, Mississippi with a Playboy body (July, 1986) and some B-movie credits. Later, describing herself as Miller's "paramour and muse," she published his 1,500 letters to her (Dear, Dear Brenda, 1986) and then went on to write several bestselling sex instruction books. These should come with a consumer warning: when Dear, Dear Brenda was staged in Russia (at the Moscow Art Theatre of all places, home of Chekhov), Brenda Venus was played by Svetlana Khorkina, the medal-winning Olympic gymnast.
---
Daybook is contributed by Steve King, who teaches in the English Department of Memorial University in St. John's, Newfoundland. His literary daybook began as a radio series syndicated nationally in Canada. He can be found online at todayinliterature.com.