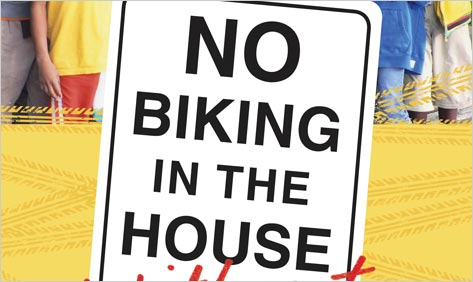 No Biking in the House Without a Helmet, MelissaFay Greene's new book about life with her nine children—four biological, fiveadopted—is a more revealing, richer book than its cutesy-parenting title mightlead you to expect. In it, Greene, a two-time National Book Award finalist,recounts with warmth and humor how she and her criminal defense attorneyhusband, Donny, came to adopt first a 4-year-old Romani boy from an orphanage inBulgaria, and then a daughter and three sons from Ethiopia, absorbing each intotheir upper-middle-class, Jewish, Atlanta home.
"This book is the story of the creation of afamily," she writes. "It began in the usual way: a woman, a man, somebabies. But then it took off in a modern direction, roping in a few olderchildren from distant countries."
No Biking is at its best when ittakes us to faraway lands: the Bulgarian apartment where Greene spends herfirst night with her son, Jesse; the toyless (but not joyless) orphanages inAddis Ababa where, over several visits, the family meets the four Ethiopianchildren who eventually join their ranks. But Greene is equally adept at navigatingthe world within—within her lively home, her diverse family, and her owncomplicated emotions.
She reveals that family bonds may be formed not only atthe moment of birth, but also at the moment when a mother and son sit together ona linoleum floor, playing with LEGOs; or as two close sisters vet theirmother's outfit before she leaves the house; or as brothers take the heat forone another after a misdeed; or as we parents find ourselves adding a new entryonto our list of "Things You Never Thought You'd Hear Yourself Say as aParent." Things like "No biking in the house without a helmet!"Which is maybe not such a bad name for a book after all.