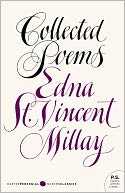 On this day in 1950 Edna St. Vincent Millay died, aged fifty-eight, in a fall down the stairs of her "Steepletop" home in New York's Berkshire hills. Though she had long since tumbled from fame — a Pulitzer, nationwide tours and radio readings, front-page political activism — Millay is regarded as one of the last American poets to have had a general readership and, whether through the love poems or the love life, to have enjoyed wide popularity. Why she withdrew from it into a decade of drug-and-alcohol seclusion is a question which continues to preoccupy Millay's biographers, though in the end we seem to stand blinking with the hired man who found her in the morning — the body sprawled on the landing, all the lights on, the half-full wine bottle on the stair, the only note the one to the housekeeper about the ironing, the last rough draft ending with these circled lines:
I will control myself, or go inside.
I will not flaw perfection with my grief.
Handsome, this day: no matter who has died.


This seems a long way from the bravado of the double-ended candle in "First Fig." She wrote the famous four-liner in her late twenties, but the teenaged "Vincent" Millay of Camden, Maine was already a candle-burner. She was so eager for experience that she would put a secret ring on her finger and hold midnight séances in order to summon her Dream Lover: "I am sitting now in the light of that candle which tonight I have lighted for the seventh time. I shall light it five times more, and on the fifth night I shall let it burn out. Then, if you have not come by that time, I shall get another, and begin again…." When the young poet suddenly found a public and a patron — this is the oft-told story of the poem "Renascence" — she put her tin ring in a box, added a drop of blood from her ring finger ("I shall always have to do things like that," she wrote), and snuffed her votive candle: "We will have no more vigils."

As if acknowledging her burn-out, the Poetry Society of America gave Millay the Frost Medal, their lifetime achievement award, when she was fifty-one. In 1949, after her husband died, Millay insisted on returning to her Steepletop seclusion, and tried for a return to her best work. Her friends and doctors feared a slow slide back into the hole of addiction out of which she had begun to climb. The long, sunrise fall pre-empted both possibilities.

***
Milton says, that the lyric poet may drink wine and live generously, but the epic poet, he who shall sing of the gods, and their descent unto men, must drink water out of a wooden bowl. For poetry is not 'Devil's wine,' but God's wine.… So the poet's habit of living should be set on a key so low and plain, that the common influences should delight him. His cheerfulness should be the gift of the sunlight; the air should suffice for his inspiration, and he should be tipsy with water.… If thou fill thy brain with Boston and New York, with fashion and covetousness, and wilt stimulate thy jaded senses with wine and French coffee, thou shalt find no radiance of wisdom in the lonely waste of the pinewoods.

—from Ralph Waldo Emerson's "The Poet," collected in Essays, Second Series, published on this day in 1844
---
Daybook is contributed by Steve King, who teaches in the English Department of Memorial University in St. John's, Newfoundland. His literary daybook began as a radio series syndicated nationally in Canada. He can be found online at todayinliterature.com.