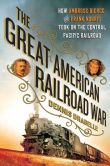 Frank Norris, the "American Zola," was born on this day in 1870. When he died of a ruptured appendix at age thirty-two, critics on both sides of the Atlantic mourned Norris as the most promising writer of his generation. In her review of Norris's McTeague (1899), a novel about the descent of a boorish, unlicensed dentist into poverty and murder, a young Willa Cather singled out the following passage for praise:
It was Sunday, and according to his custom, McTeague took his dinner at 2 in the afternoon at the car conductors' coffee joint, on Polk street. He had a thick, gray soup, heavy, underdone meat, very hot, on a cold plate; two kinds of vegetables, and a sort of suet pudding, full of strong butter and sugar. Once in his office, or as he called it on his sign-board, "Dental Parlors," he took off his coat and shoes, unbuttoned his vest, and having crammed his little stove with coke, he lay back in his operating chair at the bay window, reading the paper, drinking steam beer, and smoking his huge porcelain pipe, while his food digested; crop-full, stupid and warm.
Norris was a socialist and a muckraker, a generation younger than Ambrose Bierce, whose Devil's Dictionary began magazine serialization on this day in 1881. Bierce was too contrary to ever formally associate himself with political groups and social movements, but Dennis Drabelle's The Great American Railroad War: How Ambrose Bierce and Frank Norris Took On the Notorious Central Pacific Railroad (2012) shows that the two men shared a similar outlook. In The Octopus, the first book in a planned trilogy, The Epic of Wheat, Norris exposes the monopolistic railroads that colluded to overcharge farmers for shipping their grain. Bierce, for his part, skewered Central Pacific and corporate greed through a series of newspaper articles attacking the railroad for defaulting on millions of dollars of government loans. Bierce's 1896 articles ran in the San Francisco Examiner, where he also debuted many of his Devil's Dictionary definitions:
CORPORATION, n. An ingenious device for obtaining individual profit without individual responsibility.

COMMERCE, n. A kind of transaction in which A plunders from B the goods of C, and for compensation B picks the pocket of D of money belonging to E.
---
Daybook is contributed by Steve King, who teaches in the English Department of Memorial University in St. John's, Newfoundland. His literary daybook began as a radio series syndicated nationally in Canada. He can be found online at todayinliterature.com.