Love Rocks is a montly look at new self-published romance titles from the community of writers at Rock*ItReads.

If you're like me, your summer is busy and filled with all sorts of activities. Whether you're at home or on vacation, you may not have a large chunk of time to curl up with a good book like you did during the winter. This is why I love reading novellas at this time of the year. The short format fits my crazy, oh-my-gosh-I've-been-interrupted-again schedule.
One-third to one-half the size of a full-length novel, a novella can often be read in just one sitting. If you're flying somewhere, you can probably finish the story before your plane lands. If you're at work and you're a speedy reader, I'll bet you can start and finish one during your lunch hour. Here are several self-published romance novellas that I've recently enjoyed.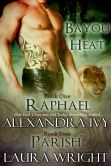 Both traditionally published, Alexandra Ivy and Laura Wright have teamed up to write Bayou Heat, a self-published paranormal novella series. Each book in the series is comprised of two novellas—one written by Ivy and one by Wright—and centers around a new romantic couple. The overall story arc continues from novella to novella, but the couple in each book get their happily ever after.
Set in the sultry depths of Louisiana, the world revolves around a secret race of puma shifters called Pantera. With their magic dying out and the race facing extinction, they're driven beyond the borders of their homeland to discover the reason this is happening and encounter an ancient enemy who is seeking to destroy them.
The series kicks off with Raphael/Parish. The first story is Raphael's, written by Ivy. He's is a diplomat of sorts and has devoted his life to searching for the reason their race is dying out, but when he encounters a beautiful human woman near the Pantera Wildlands, his primitive instincts take over, and Ashe Pascal is unable to resist him. After sharing a passionate night together, they begin to fall in love and soon realize that she's pregnant. This puts her in terrible danger, for if their enemy finds out, they will kill her.
In Parish's story, written by Wright, the leader of the Pantera hunters is tasked with venturing out into the human world, a world he despises, to kidnap a human doctor to help with the birth of Raphael and Ashe's child. But when he sees Dr. Julia Cabot, a primitive and unexpected drive consumes him, and he can't resist the urge to take the doctor for himself. Julia has been betrayed by love before and has no plans to let it happen again, but she can't deny the powerful bond developing between them.
In each sexy story, the stakes get higher, both in character development and in plotting. Ivy and Wright write with an emotional intensity that will sweep you away and have you turning the pages as fast as you can click. There are three books in the series so far. That's six sexy novellas.
If you like complex paranormal worlds with strong alpha males, smart females and lots of danger, the Bayou Heat novella series is a must read.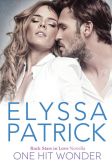 Shifting gears to contemporary romance, my second novella recommendation is One Hit Wonder by Elyssa Patrick. It's a standalone story in the Rock Stars In Love series.
Jane Timmons is the buttoned-up personal assistant to the womanizing Damon Suarez, a once famous pop singer with a mega-hit a few years ago who is working on a comeback. Jane's dream is to start a PR firm of her own, not cater to the fickle whims of a man who treats her like one of the guys and calls her by her last name. Secretly in love with him, she decides it's time to move on.
With a heart of gold and a penchant for outlandish clothes and drinks with umbrellas, Damon loves the limelight. When Jane gives her notice, he realizes he can't imagine a life without her. For two years, he's relied on Jane and can't bear the thought of losing her, so he scrambles to talk her out of leaving and, in the process, discovers that he loves her.
One Hit Wonder is a sexy Cinderella story starring a plain Jane heroine and a charismatic hero with several big, over-the-top scenes that I absolutely adored. The ending is pure heaven and will have you clutching your e-reader to your chest when you're done because it's so perfect.
If you like emotional contemporary romances with a touch of pop culture humor and you secretly want to participate in a flash mob, you'll love One Hit Wonder.
To sign in and make a comment, click on the Sign In or Register link in the upper right-hand corner of the page, then come back to this page to leave a comment below.
---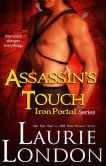 Laurie London is the author of the Sweetblood and Iron Portal series—dark, sexy paranormal romance, set primarily in the Pacific Northwest. Her latest release is Assasin's Touch. For more information about Laurie, visit her website at www.LaurieLondonBooks.com or go to www.RockItReads.com.