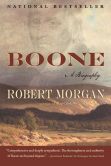 Two darling sons, and a brother, have I lost by savage hands, which have also taken from me forty valuable horses, and abundance of cattle. Many dark and sleepless nights have I been a companion for owls, separated from the cheerful society of men, scorched by the Summer's sun, and pinched by the Winter's cold, an instrument ordained to settle the wilderness. But now the scene is changed:… I now live in peace and safety, enjoying the sweets of liberty, and the bounties of Providence, with my once fellow-sufferers, in this delightful country, which I have seen purchased with a vast expense of blood and treasure, delighting in the prospect of its being, in a short time, one of the most opulent and powerful states on the continent of North America; which, with the love and gratitude of my country-men, I esteem a sufficient reward for all my toil and dangers.
Daniel Boone was born on this day in 1734. The passage above concludes the purportedly autobiographical account of Boone's life included in John Filson's The Discovery, Settlement And present State of Kentucke. Published in 1784, Filson's book propelled Boone to international fame and attracted many to the American frontier. "Few other Americans," says Robert Morgan in his biography Boone, "have had their lives told so often and in such a wide range of styles, combining truth, insight, myth, hearsay, and outright fabrication."
---
Daybook is contributed by Steve King, who teaches in the English Department of Memorial University in St. John's, Newfoundland. His literary daybook began as a radio series syndicated nationally in Canada. He can be found online at todayinliterature.com.