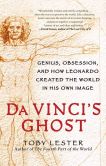 Leonardo da Vinci was born on this day in 1452. His notebooks run to some 5,000 looseleaf pages, each so crammed with his detailed and overflowing genius that "on one and the same page," according to Jean Paul Richter, the nineteenth-century author who translated the notebooks, "observations on the most dissimilar subjects follow each other without any connection":
A page, for instance, will begin with some principles of astronomy, or the motion of the earth; then come the laws of sound, and finally some precepts as to color. Another page will begin with his investigations on the structure of the intestines, and end with philosophical remarks as to the relations of poetry to painting….
Toby Lester's Da Vinci's Ghost (2011) tells the story of the most famous notebook page, the double male figure whose outstretched arms and legs are inscribed within a circle and a square. Lester traces "Vitruvian Man" from its source in ancient Greek architecture and philosophy through centuries of monks, mystics, and medieval cathedral builders, finally arriving at Leonardo, whose "genius and obsession" turned the figure into a celebration of "all sorts of ideas: the grandeur of art, the nature of well-being, the power of geometry and mathematics, the ideals of the Renaissance, the beauty of the human body, the creative potential of the human mind…."
---
Daybook is contributed by Steve King, who teaches in the English Department of Memorial University in St. John's, Newfoundland. His literary daybook began as a radio series syndicated nationally in Canada. He can be found online at todayinliterature.com.