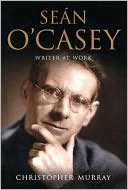 Sean O'Casey was born on this day in 1880, in the working-class ghettos of Dublin that he would make famous in such controversial plays as The Plough and the Stars. Although now less known, O'Casey's six-volume autobiography is as personal and compelling as the plays. Frank McCourt, who would cover the same sort of ground a half century later in Angela's Ashes, described O'Casey's autobiography as a revelation:
He's the first Irish writer I ever read who wrote about rags, dirt, hunger, babies, dying. The other writers go on about farms and fairies and the mist that do be on the bog and it's a relief to discover one with bad eyes and a suffering mother.
O'Casey was just six years old when his father died, leaving thirteen children. In I Knock at the Door, the first volume of his autobiography, O'Casey recalls the hearse driver boasting about the previous night's fifteen pints, and the neighbor woman screaming at Sean to "give your poor father a last kiss before he's screwed down," sending the young boy running to his mother:
— I couldn't, I couldn't he sobbed. Don't ask me to mother, don't ask me to kiss him, I'm frightened to kiss a dead man….

— No one'll ask you to do it, she said, I'll kiss him good-bye for you myself. Just touch the side of the coffin with the tip of your finger…. That's the brave little son, she murmured; and now I'll give your father a last kiss from his little boy.

She bent down and kissed the thing in the coffin, and he heard her say in a steady whisper, Good-bye, my Michael; my love goes with you, down to the grave, and up with you to God.

She stepped back, and he felt her body shaking. He looked up and saw her lips quivering in a curious way, as she said quietly to the waiting hearsemen, You may put the lid on top of him now.
---
Daybook is contributed by Steve King, who teaches in the English Department of Memorial University in St. John's, Newfoundland. His literary daybook began as a radio series syndicated nationally in Canada. He can be found online at todayinliterature.com.