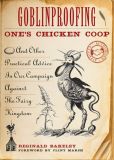 Alex Comfort died on this day in 2000. Apart from being a novelist and poet, Comfort was a respected academic and a social activist who wrote extensively on a wide range of topics — some three dozen books published over a half-century writing career, on aging, pacifism, anarchism, neuroscience, physics, mathematics, and more.

But Comfort, to his horror, found wealth and fame for only one book (and its sequels) — his 1972 bestseller, The Joy of Sex, regarded as one of the essential texts of the "sexual revolution." Comfort's book, or one of its offspring, also has a rarefied place in book history. The Joy of Sex: The Pocket Edition won the 1997 Bookseller/Diagram Prize for Oddest Title of the Year.

Bookseller magazine has been handing out its Oddest Title prize since 1978, the winner selected from entries submitted by librarians, publishers, booksellers, readers — anybody who wants the title-picking award of a bottle of champagne or claret. The prize is supposed to go to a book with an unintentionally funny title, the humor coming from the title's deadpan oddness. The first award, given in 1978, went to Proceedings of the Second International Workshop on Nude Mice; the winner of the special "Diagram of Diagrams Award," handed out in 2008 to commemorate the thirtieth anniversary of the contest, went to Greek Rural Postmen and Their Cancellation Numbers.

Philip Stone, the Diagram Prize's coordinator this year, says that the competition goes beyond celebrating oddness: "I think it draws welcome attention to an undervalued art.… A Short History of Tractors in Ukrainian has sold almost a million copies to date, while books such as Salmon Fishing in the Yemen, The Guernsey Literary and Potato Peel Pie Society, and The Hundred-Year-Old Man Who Climbed Out of the Window and Disappeared perhaps all owe some of their success to their unusual monikers." Below, the titles that made this year's shortlist for the prize:
Was Hitler Ill? by Henrik Eberle and Hans-Joachim Neumann
Lofts of North America: Pigeon Lofts by Jerry Gagne
How to Sharpen Pencils by David Rees
God's Doodle: The Life and Times of the Penis by Tom Hickman
Goblinproofing One's Chicken Coop by Reginald Bakeley
How Tea Cosies Changed the World by Loani Prior
This year's winner, chosen by a public vote last Friday, is Goblinproofing One's Chicken Coop.
---
Daybook is contributed by Steve King, who teaches in the English Department of Memorial University in St. John's, Newfoundland. His literary daybook began as a radio series syndicated nationally in Canada. He can be found online at todayinliterature.com.