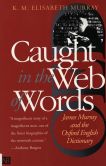 The first volume of the Oxford English Dictionary was published on this day in 1884, a quarter-century after the project began. When the word-gathering started, a grid of 54 pigeonholes was built, capable of handling 100,000 slips of paper. When James Murray, the OED's most famous editor and personality, took over halfway through the work, he built a "Scriptorium" in his back garden in Oxford to house the research, with a battery of bookshelves and now 1,029 pigeonholes to handle all the information. This came not only from his staff but from the overwhelming response to his appeal for information on words which seemed "rare, obsolete, old-fashioned, new, peculiar or used in a peculiar way." Scholars and logophiliacs around the world sent him 1000 letters a day, causing the P.O. to install a pillar mailbox outside Murray's front gate.
The OED has been in a state of perpetual revision and addition, recent Supplements informing us, for example, that an "alliterate" is a person able to read but unwilling to do so, and that "teledildonics" is computer sex. Today, as originally, the general public is encouraged to submit quotations to the OED in support of their effort to find the earliest and best usages of such words. The OED's current Wordhunt Appeal List begins with "bananas" (as in "going bananas") and ends with "wolf-whistle." Readers have also been asked to contribute by tracking down quotations that the OED incorporated from Samuel Johnson's Dictionary but which have not been found and checked in their original context. "Obstupefactive" and most of the other words on the list have been located, but a pigeonhole in word history awaits the person who can verify first usages of the words "superexaltation," "pine-apple," "estimable" and a handful of others.
According to Caught in the Web of Words, a biography written by his granddaughter, Murray himself was not interested in any kind of fame:
I have persistently refused to answer the whole buzzing swarm of biographers, saying simply 'I am a nobody — if you have anything to say about the Dictionary, there it is at your will — but treat me as a solar myth, or an echo, or an irrational quantity, or ignore me altogether.' It was unfortunately not practicable to edit the dictionary anonymously, else I should certainly have done so….
---
Daybook is contributed by Steve King, who teaches in the English Department of Memorial University in St. John's, Newfoundland. His literary daybook began as a radio series syndicated nationally in Canada. He can be found online at todayinliterature.com.