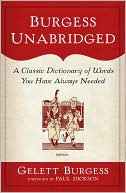 January 30: The American humorist Gelett Burgess was born on this day in 1866. Among the definitions in his dictionary Burgess Unabridged (1914) is "blurb," a word Burgess had coined eight years earlier to advertise another of his books featuring another of his famous coinages, "bromide." In order to promote Are you a Bromide? (1906), his jab at those who specialized in the platitudinous utterance, Burgess created Miss Blinda Blurb, who specialized in dust-jacket hyperbole. Miss Blurb debuted at a meeting of the American Booksellers Association in 1907, gushing that Burgess was an author who had "Henry James locked into the coal-bin, telephoning for 'Information,'" and that his book "makes you want to crawl through thirty miles of dense tropical jungle and bite somebody in the neck."
Roughly equivalent to Mencken's "booboisie," or to those hoisted by Flaubert's Dictionary of Received Ideas, Bromides are creatures of habit and conventional wisdom: "They have their hair cut every month and their minds keep regular office hours." The defining characteristic of the Bromide is the "belief that each of the ordinary acts of life is, and necessarily must be, accompanied by its own especial remark or opinion." A bromidic sampler:
I don't know much about Art, but I know what I like.

My mother is seventy years old, but she doesn't look a day over fifty.

That dog understands every word I say.

It isn't money, it's the PRINCIPLE of the thing I object to.

The Japanese are such an interesting little people!

Funny how some people can never learn to spell!

It isn't so much the heat (or the cold), as the humidity in the air.

I want to see my own country before I go abroad.
As a poet, Burgess specialized in parody. The following lines are from "The Rubaiyat of Omar Cayenne," a quatrain-by-quatrain roasting of contemporary readers, writers, and publishers:
Come, fill the Purse, to Publishers, this Spring,

Your Manuscripts of paltry Passion bring:

The New York Times has oft a little Way

Of praising — let The Times your praises sing.

Whether by Century or Doubleday,

Whether Macmillan or the Harpers pay,

The Publisher prints new books every Year;

The Critics will keep Busy, anyway!

Each Morn a thousand Volumes brings, you say;

Yes, but who reads the Books of Yesterday?

And this first Autumn List that brings the New

Shall take The Pit and Mrs. Wiggs away.
---
Daybook is contributed by Steve King, who teaches in the English Department of Memorial University in St. John's, Newfoundland. His literary daybook began as a radio series syndicated nationally in Canada. He can be found online at todayinliterature.com.