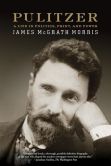 The first Pulitzer Prizes were awarded on this day in 1917. Joseph Pulitzer's original stipulation was that the fiction prize go to a book reflecting "the wholesome atmosphere of American life, and the highest standard of American manners and manhood." This was officially amended in 1931, several years after Sinclair Lewis had cited this restriction when refusing his Pulitzer for Arrowsmith, his letter a challenge to all writers to emancipate themselves from such compulsions of "safe, polite, obedient, and sterile" behavior.
But the "wholesome" clause was still unofficially in play for years afterward; for example in 1941, when the Pulitzer Board refused to accept its jury's nomination of Hemingway's For Whom the Bell Tolls on the grounds that it was "offensive and lascivious." Hemingway may not have minded — he apparently liked to call the Pulitzer the Pull-Over — but in deciding not to give a fiction award at all in 1941 the board ignored Richard Wright's Native Son and Carson McCullers's The Heart Is a Lonely Hunter (her book published on this day in 1940).
The list of books overlooked for a Pulitzer is an impressive one, and only a small handful of Pulitzer winners made any of the best-of-century surveys. The jury will probably remain out on which year was the biggest Pulitzer oops, but it's hard to overlook 1930, when Oliver La Farge's Laughing Boy beat out The Sound and the Fury, A Farewell to Arms, Look Homeward, Angel, and Dodsworth. The next year wasn't much better: Margaret Barnes got the award for Years of Grace over As I Lay Dying, The 42nd Parallel, and The Maltese Falcon.
---
Daybook is contributed by Steve King, who teaches in the English Department of Memorial University in St. John's, Newfoundland. His literary daybook began as a radio series syndicated nationally in Canada. He can be found online at todayinliterature.com.