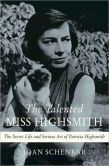 The crime-noir writer Patricia Highsmith was born on this day in 1921. The movies have helped to keep several of Highsmith's books popular — more recently, Anthony Minghella's version of The Talented Mr. Ripley; more famously, Alfred Hitchcock's version of Strangers on a Train. The latter novel was Highsmith's first of thirty books over a forty-five-year career, and it displayed the coolly macabre style which became her hallmark: "Oh, what's a life or two? Some people are better off dead, Guy. Take your wife and my father, for instance."
Highsmith was always popular in Europe, where many discussed her style and themes as existential, and many of her lesser-known books have returned to print in America over the last few years. These titles include Little Tales of Misogyny, in which there are many stories verifying one critic's comment that "Miss Highsmith writes about men like a spider writing about flies." She can be hard on women and marriage, too; take "The Hand," for instance, which begins with this: "A young man asked a father for his daughter's hand, and received it in a box — her left hand."
There have also been two recent biographies, each of them using Highsmith's extensive diary-writing to help document her troubled, alcoholic life. Starting early on, all her relationships were fractured and fraught, or worse: "I am married to my mother, I shall never wed another." Her second novel was The Price of Salt (now often titled Carol), a lesbian romance inspired by a casual encounter with an older woman, whom Highsmith then stalked and fantasized killing (and who, shortly after the following diary entry was written, killed herself):
For the curious thing yesterday, I felt quite close to murder too, as I went to see the woman who almost made me love her when I saw her a moment in December, 1948. Murder is a kind of making love, a kind of possessing. (Is it not, too, a way of gaining complete and passionate attention, for a moment, from the object of one's attentions?) To arrest her suddenly, my hands upon her throat (which I should really like to kiss) as if I took a photograph, to make her in an instant cool and rigid as a statue.
To read our review of Joan Schenkar's The Talented Miss Highsmith, click here.
---
Daybook is contributed by Steve King, who teaches in the English Department of Memorial University in St. John's, Newfoundland. His literary daybook began as a radio series syndicated nationally in Canada. He can be found online at todayinliterature.com.