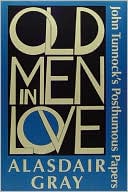 God bless visionary eccentrics, a type the British Isles are particularly good at producing. Without them, life would be merely a long dreary trudge through a bleak forest of duties and disappointments, ending in a featureless, futureless grave. But with celestially-besotted madmen and crazy oracular women on the scene—ah, it's all fireworks, amour fou, angels, and baggy pants!
In today's case, I am lavishing thanks not only for the existence of Alasdair Gray, our present-day reigning literary eccentric, but also for his marvelous invention, John Tunnock: crabby and crabbed, quintessentially Scottish misanthrope, unsung and deceased novelist, surname-sharer with a teacake, "hero," if I may be so bold, of Old Men in Love.
Gray's previous body of work has revealed him to be a lapidarist and antiquarian who nonetheless has a firm and even delusion-crushing grasp on our contemporary foibles and malaise. Only scholarly Gray, for instance, could have conceived of an anthology devoted entirely to that neglected format, the preface. Moreover, like his obvious predecessors William Blake and Mervyn Peake, Gray is also a visual artist, decorating his books with illustrations worthy of Frank Papé, and designing all his volumes in creative ways. The current novel, for instance, reveals a secret codicil to the title when the dustjacket is removed.
But Gray's stories ultimately trump the pretty frames that surround them. In this case, he's tackled a witty, melancholy portrait of a grumpy outsider with literary pretensions. Readers might be reminded of Samuel Delany's two novels along those lines—The Mad Man and Dark Reflections—as well as Dan Clowes's recent graphic novel, Wilson.
Tunnock is a retired schoolteacher quietly and martyrishly laboring on his magnum opus: a tripartite novel veering from Periclean Athens to Quattrocento Italy to Victorian England, all intended to do nothing less than explain postmodern civilization to itself in a Cassandran wake-up rant. But, alas, Tunnock's high-minded dreams are undone by his Humbert Humbert habit of taking in waifish yet dangerous gutter girls as lovers and lodgers.
Samples of Tunnock's writings are sandwiched between his diary entries limning his upbringing (by two old-maid aunts, shades of H.P. Lovecraft!) and life in modern Glasgow. While this book is not as downright hilarious or brash as Gray's best earlier work, and does suffer a bit from the bricolage that imparts a stuttering stop and go feel to the narrative, it remains an ambitious reminder that linear tellings are not the only—nor even the best—way to capture the truths of living.
-PAUL DI FILIPPO
---

Paul Di Filippo's column The Speculator appears monthly in the Barnes & Noble Review. He is the author of several acclaimed novels and story collections, including Fractal Paisleys, Little Doors, Neutrino Drag, and Fuzzy Dice.