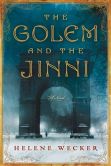 Very few debut novels exhibit the charm, assurance, emotional depth and bravura fabulation which the lucky reader will discover in Helene Wecker's The Golem and the Jinni. Like some agreeable conflation of Isaac Bashevis Singer, Mark Helprin and the anonymous compiler of One Thousand and One Nights, Wecker delivers an ambitious yet gracefully humble novel featuring the best of classic European and Middle Eastern fancies, reimagined and reembedded in a vivid New World milieu, at once numinously odd and groundedly naturalistic. The result is utterly unique and enchanting. Perhaps the famous debut of Susannah Clarke, Jonathan Strange & Mr Norrell, might be the last occasion for such rejoicing at a new voice in the genre and beyond.
We begin with two separate narrative strands, vastly intriguing on their individual merits, that meet about a third of the way through the book, tangling in unforeseeable yet resonantly inevitable ways.
First, the golem's tale.
In Prussia, a lonely and lazy bachelor, Rotfeld, pays a large sum to a dissolute Kabbalist magician, Yehudah Schaalman, to construct a golem that will serve Rotfeld as wife. Setting out for a fresh start in America, Rotfeld, tempted while en route, awakens his crated bride, who, thanks to subsequent circumstances, reaches the New World alone, friendless, naive and helpless. In New York, she finds a kindly mentor and receives her name: Chava. Her existence becomes a somewhat tortured labyrinth, not totally without bright spots, wherein she must learn her own nature, human nature, and the uneasy accommodations between those realms.
At the same time we meet Boutrous Arbeely, already resident in the city, where he makes a living as a poor tinsmith among the immigrants of Little Syria. One day Arbeely takes up the chore of fixing an antediluvian copper jug. He effaces an engraved symbol on its surface, and is rewarded with the manifestation of a jinni. But Ahmad the jinni, as he will be christened, is a spirit still constrained in human form by the remnants of his binding spells. He retains very few of his innate occult powers save for some above average physicality and the ability to melt and shape metals, part and parcel of his magma-like constitution. With a deep, significant past (he had lived two hundred years prior to imprisonment) and a disdain for humans, Ahmad must chart his own uneasy path analogous to Chava's. When they eventually meet, their differences will alternately war with and complement their similarities, as they move, two unique elemental creatures, through Victorian New York. Ancient karma from Ahmad's past will eventually enwrap them in mingled tragedy and triumph.
Wecker's own triumphs in this book are manifold, and it's difficult to know where to begin to array them.
First off, on the sheerest surface level, the book can be read like a fine historical romance. The immigrant communities and the plights of all new citizens; the ambiance of Victorian Manhattan; blooming and dying love affairs and businesses; aspirations and fears: All these regular constituents of such books are vividly deployed in a very satisfying manner. And because Chava and Ahmad must live, against their natures, in a mimicking human manner, the reader can, if one so desires, almost forget their supernatural birthrights. And a large supporting cast of colorfully limned real humans, several of whom play important roles in the plot, conduces to this naturalistic reading.
But of course the woman of clay and man of fire are too essentially supernatural for this mental trick of interpretation to last long or matter at all. I use it only to highlight the solid realistic underpinnings of the tale. Wecker's main job, expertly done, has been to inhabit the outré minds of Chava and Ahmad so intensely, with the plot hinging so centrally on their fantastical souls, that readers will be eagerly anticipating the revelation of all uncanny facets of their characters. There are many great setpieces here where the two human-like creatures perform wonders and horrors.
Wecker is very careful not to ennoble or diminish the essential integrity and quirkiness of Ahmad and Chava. They emerge as blends of goodness and selfishness, wisdom and blindness. That said, each one represents a certain iconic stance, and Wecker plays off this antithesis brilliantly. Chava is angelic and Ahamad demonic. She is giving and loving, he is self-centered and dismissive. She is humble and he's a braggart. She deals with organic things, he with inanimate. She's Northern, he's Southern. And yet, despite their "owl and the pussycat" relationship, they find common ground in many things, not the least being artistry and passion. We believe in both the sparks and the sympathies that arise between them.
Any aficionado of fantasy fiction will find many striking tropes sophisticatedly alluded to by Wecker. In a sense, Chava is the Cowardly Lion, looking for courage, unknowing of her own strength; while Ahmad is the Tin Man—literally!—looking for a heart. Echoes of Faust arise in the relationship between Ahmad and Arbeely. Yehudah Schaalman's arrival in New York strikes notes of both Nosferatu and the Wandering Jew. Chava's eventual New World marriage recalls fairy tales about husbands whose happiness relies on never questioning their odd bride. And so forth, for a density of imaginative affect.
Wecker's longish novel allows itself the leisure to really build its story, but she pulls out all the stops in the climax (which I would gauge to be the entire final hundred pages!) Everything simultaneously falls apart and blows up for Ahmad and Chava, in roughly one suspenseful day or so. Wecker's guiding hand never falters for a moment, and the coda is superbly rewarding, for us and the characters.
Whatever we see from Wecker's subsequent books, her opening move has been masterful.
---

Paul Di Filippo's column The Speculator appears monthly in the Barnes & Noble Review. He is the author of several acclaimed novels and story collections, including Fractal Paisleys, Little Doors, Neutrino Drag, and Fuzzy Dice.