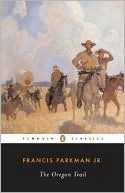 America's "Great Migration" westward began on this day in 1843, some 1,000 heading off in the first pioneer exodus over the Oregon Trail. Small groups had been making the five-month trek for several years — the first band of eighteen in 1839, under the flag "Oregon or the Grave" — but this marked the start of the legendary wagon trains; over the next fifteen years, 350,000 would make the trip, or attempt it.

The diaries and memoirs tell a mixed tale, but the reports of scenic wonders and campfire dances seem outweighed by every category of looming disaster. Catherine Sager Pringle's Across the Plains in 1844, a key resource for every historian of the period, describes her father's death while attempting to divert a buffalo stampede; her mother's death a month later by fever; the seven orphaned children, aged fourteen years to a few weeks, given to a couple running a missionary settlement; the new parents and two of the Sager children killed in an Indian attack; the remaining kids, now twice orphaned, split up and given to different families.

The most widely read influential account, Francis Parkman's The Oregon Trail (1847), is by comparison a romance novel. Parkman's literary style is perhaps partly explained by his decision to take Shakespeare's plays and Byron's poetry on his trip west. Quotations from these and other classics introduce each chapter, and illustrations by N. C. Wyeth and Frederic Remington add to the romantic allure. But the book carries eyewitness impact — "true, wild-game flavor," said Herman Melville in his review — even at its most dubious moments. In this passage, Parkman becomes so "drunk with the chase" of the buffalo that, after shooting a few and dodging the enraged charges of others, he finds himself out of gun wadding:
At length, bethinking me of the fringes at the seams of my buckskin pantaloons, I jerked off a few of them, and reloading my gun, forced them down the barrel to keep the bullet in its place; then approaching, I shot the wounded buffalo through the heart. Sinking to her knees, she rolled over lifeless on the prairie. To my astonishment, I found that instead of a fat cow I had been slaughtering a stout yearling bull. No longer wondering at the fierceness he had shown, I opened his throat and cutting out his tongue, tied it at the back of my saddle…. We encamped close to the river. The night was dark, and as we lay down we could hear mingled with the howling of wolves the hoarse bellowing of the buffalo, like the ocean beating upon a distant coast.
---
Daybook is contributed by Steve King, who teaches in the English Department of Memorial University in St. John's, Newfoundland. His literary daybook began as a radio series syndicated nationally in Canada. He can be found online at todayinliterature.com.