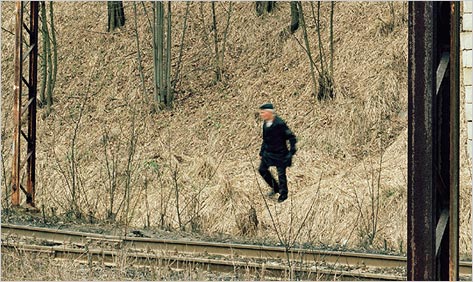 A man hands a customs official a none-too-old passport. It is spattered with 167 stamps. Almost all the stamps are for eastern European crossings, but even for that flabbergastingly detonated political geography, that's a lot of stamps. The agent looks at all the ink for some time, agog. The agent asks, "Sir, what's the point of all this?" The man is thinking, I can't help it, I love this Balkan shambles.

Andrzej Stasiuk, born in Ukraine and now living in Poland, is a writer of many forms—short stories, plays, poetry, essays, and novels—and stylistically promiscuous: on-the-road reportage, pungent atmospherics, moody with a haunted weighty fatalism, crisp place portraits, gobbets of history thrown in, rangy and mildly hallucinatory but less stream-of-consciousness than magic realism. On the Road to Babadag is a travel narrative through a handful of those eastern European places in all of these styles, sometimes on the same page. Which is not to say that Stasiuk fares without a compass; the writing is consistently sharp, dense, and as artfully woven as damascene, capturing his experience of a place's genius loci—"things I pluck from their landscape, making my own map of them, my own fantastic geography."

The "point of all this" is some of the best road writing to have come down the pike. He travels through the other Europe not only because he loves it but because he can, which for a long time one couldn't, and because he is drawn to the unvarnished and elemental, "drawn increasingly to places that tell of a beginning or else where sadness has the power of fate," to the hoary forgotten corners that have fallen off the edge, the detritus under modernity's table: sinister Sinistra, alarming Clit ("In Clit, people spoke an odd tongue"), confounding Shqiperia.

For sure, there is plenty of fine, grim material to be found in eastern Europe (Slovakia, Hungary, Moldova, and Romania are his hunting grounds), and Stasiuk sniffs them out like a hunting dog. He moves without dispatch, stopping to smell the pens, stables, and sties, the hickory smoke, fried onions, gasoline fumes, herbs trampled underfoot by cows, oxen, and goats. There is Transnistria, over beyond the Dniester River, a nonexistent country of "dissolution and melancholy with an undercurrent of menace," (124) and vile garbage-strewn Baia Mare, and Albania. "Albania is the dark well into which those who believe that everything has been settled once and for all should peer," where, just imagine, the first printing press in the Balkans was established 280 years ago. And forget government: "Power, violence, and madness live in concubinage, or complete legal union."

There is also much quiet, dry humor and great beauty. "In Goncruszka the sidewalks were violet from the plums." In Rasinari, Transylvania, "the air carries a dazzle we are unaccustomed to here. The African, Mediterranean light flows over the Carpathian range and descends on the village." That's some heady transport for our ride to the center of town, and we hitch along, gladly, for this is surely a guide who will give us new eyes.

Stasiuk has been well regarded in Europe for years and is now beginning to get his due in the United States. Although it's only July, it is tempting to say that if you are going to read one travel book this year, make it this one.