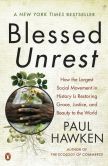 Mahatma Gandhi and his followers set off on their 240-mile "Salt March" on this day in 1930. The nonviolent protest landed Gandhi in jail, and over the following months some 80,000 Indians who joined similar protests would also be detained. But the Salt March attracted worldwide attention and support for the cause of Indian independence, finally granted by Britain in 1947.

While the ultimate focus of Paul Hawken's Blessed Unrest is environmental, his discussion of the history of social protest emphasizes how "small and seemingly inconsequential actions took place that eventually changed the world — outcomes the original actors might never have imagined." Showing how the spirit of social protest spreads between generations and across causes, Hawken traces Gandhi's inspiration back to Thoreau and Emerson, and forward to Martin Luther King and the civil rights movement. Such interconnectedness, says Hawken, demonstrates the importance of taking even just a few steps down the "less traveled road of integrity":
Maybe the best way to understand the future implications of the movement's daily actions is to remember Emerson's moral botany: corn seeds produce corn; justice creates justice, and kindness fosters generosity. How do we sow our seeds when large, well-intentioned institutions and intolerant ideologies that purport to be our salvation cause so much damage? One sure way is through smallness, grace, and locality. Individuals start where they stand and…make the road by walking.
---
Daybook is contributed by Steve King, who teaches in the English Department of Memorial University in St. John's, Newfoundland. His literary daybook began as a radio series syndicated nationally in Canada. He can be found online at todayinliterature.com.