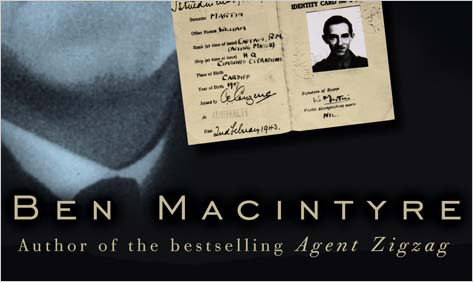 Ben Macintyre's exuberant, impious account of Operation Mincemeat puts on record again the debt British intelligence once owed to an upper-class infatuation with detective fiction. The scheme was nothing less than a glorious red herring: setting a body adrift kitted out as a British officer carrying false war plans to mislead the Germans. It was, as it happens, a ruse almost certainly suggested by Ian Fleming, assistant for a time to Admiral John Godfrey, head of British Naval intelligence. And it was eventually implemented by, among others, John Masterman, the chairman of the disinformation-disseminating Twenty Committee: an Oxford don in civilian life and author of detective novels. Until now the venture has been best known from the 1956 movie, The Man Who Never Was, itself based on the book of the same title by Ewen Montagu, one of the men involved in setting it up. But opened archives and Macintyre's penchant for questioning accepted versions of practically everything, have produced a brilliant revisionist history in Operation Mincemeat: How a Dead Man and a Bizarre Plan Fooled the Nazis & Assured an Allied Victory, one abounding in eccentrics, rum characters, and over-grown boys.
Macintyre begins by providing entertaining sketches of the "high-powered spooks" who combined to create the remarkable fiction of Major William "Bill" Martin, supposedly drowned off the coast of Spain in April 1943, while transporting top-secret documents revealing that the Allies meant to invade Sardinia and the Balkans instead of Sicily, the actual target. In addition to Fleming, Masterman, and Montagu already mentioned, we meet Charles Christopher Cholmondeley (pronounced "Chumly," of course), a gangling 25-year-old with a bravura waxed mustache, huge feet, and "a strange, loping gait"; Johnny Bevan, who had "that rare English ability to achieve impressive feats with a permanent air of embarrassment"; and Dudley Wrangle Clark, "unmarried, nocturnal, and allergic to children," a man who would, on occasion, dress up as a woman. Among the others involved were a laughing coroner, Bentley Purchase, who "loved Gilbert and Sullivan operas, toy trains, boiled eggs, and his model piggery in Ipswich" and Sir Bernard Spilsbury, senior pathologist of the Home Office, an unlovely, arrogant man who "looked like a lizard in a lab coat, and smelled permanently of formaldehyde."
And then there's the corpse. In his book, Montagu spun a patriotic tale of a grieving father giving consent to the employment of the body of his son, dead of exposure, for a clandestine mission. The truth, in contrast, is a bleakly ironic commentary on British society, for the body, procured quite illegally, was that of a working-class Welshman, Glyndwr Michael, who, indigent and starving, had killed himself in January 1943 by eating rat poison. "They gave him a hometown, a rank, a regiment, and a love of fishing," writes Macintyre. "He would be furnished with a watch, a bank manager, a solicitor, and cuff links. They gave him all the things that Glyndwr Michael had lacked in his luckless life, including a supportive family, money, friends, and love."
The plotters fussed zealously over their creation's attire and personal effects, including love letters, bills, and theatre tickets. They made him an officer in the Royal Marines, for whom battle dress was standard, in order to circumvent the ghoulish problem of furnishing a custom-made dress uniform for a top-secret corpse. Most of the wardrobe and its accouterments were purchased by Cholmondeley who then wore the outfit for three months to give it some wear while Major Martin lay in cold storage. For his part, John Masterman took on the task of supplying underwear, finding personal satisfaction in pressing into service the wooly undergarments of his arch-rival at Oxford, the distinguished historian H. A. L. Fisher, "a figure of ponderous grandeur and gravity" who had been run over and killed by a truck. In addition to such pleasant mischief, the project also gave rise to "one of the oddest love affairs imaginable," as Ewen Montagu became smitten with the young woman who contributed her photo to serve as "Pam," the Major's fiancée, writing letters to her under that name and signing himself "Bill."
But for all this foostering about with props and persona — of which there was plenty more — Major Martin's handlers were chillingly aware that many thousands of British, Canadian, and American lives would be lost if the German secret service saw through the ruse. The fraudulent information contained in the planted papers had to be subtly conveyed and absolutely convincing or it would confirm that Sicily, presented as a decoy, would be the actual target. Producing the documents — a letter from General Nye to General Alexander and another from Lord Mountbatten to General Cunningham — turned into an imbroglio of debate and review with everyone, from the Twenty Committee to the Chiefs of Staff, getting involved. "It is doubtful," says Macintyre, "whether any documents in the war were subjected to closer scrutiny or more revisions."
Macintyre's account of the plan's refinement, execution, and remarkable success is fast-paced, witty, and quite as filled with plot twists and suspense as any novel. For one thing, the papers had a devil of a time getting themselves into German hands thanks to the unlooked-for integrity and anti-German sentiments of certain Spanish authorities who tried to return the Major's documents to the British before the Germans could examine them. It took further machinations on the part of the British secret service and its fantastical network of bogus German informers to finally outmaneuver Spanish honor. What is more, it is quite certain that Major Martin would not have accomplished his mission had he actually been in a detective novel and subject to the scrutiny of one of the sleuths his creators so admired. Evidence of poisoning, his state of decomposition, and some solecisms in his personal effects would never have escaped the notice of one of those prodigies of observation and deduction. But Martin's handlers had luck on their side — and something else too.
That Mincemeat was "swallowed rod, line and sinker" — to quote a telegram sent to Winston Churchill — owed a great deal to what Admiral Godfrey had identified as the two essential weaknesses of the German secret service: "wishfulness" and "yesmanship," that is, their agents' tendency to skew and even manufacture intelligence that flattered the preconceptions of Hitler and his top advisors. But beyond this, as Macintyre shows, there is compelling evidence that at least one high-ranking German was not duped, that he hated Hitler and his war to such a degree that he connived at the operation's success. That's a real stunner, but only one of several Macintyre lays before us.
This is a terrific book written with intelligence and story-telling brio. Marked by enormous research and a taste for the incongruous, the unlikely, and the just plain funny, it is generously embellished with any number of tributary stories and peopled by bizarre minor players. Ben Macintyre has achieved what one might have thought was impossible, he has written a book that surpasses even his last one, the once peerless Agent Zigzag.