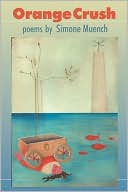 Simone Muench is a Chicagopoet by way of Louisiana. Her third book of poems, Orange Crush, sets its tone early with her opening lines: "Troublecame and trouble / brought greasy, ungenerous things." The tempting callin this poem, "Hex," evokes a depravity which sets the stage forMuench's central characters: London's seventeenth-century "orange girls,"who sat outside theaters selling china oranges for six-pence each–or, moreaccurately, selling themselves to theaudience, to the men, to the trouble to come.
The title of the volume plays on the soda pop, the fun in orange and the playfulness in crush–whether a violence to somethingor a young love for someone. The poems, divided into four sections: "Record,""Rehearsal," "Recast," and "Redress" are chockfull of historical moments and tough views on the continued subjugation ofwomen. The poem "Orange Girl Suite" stands out as a passionate (bothloving and horrifying) revelation of the female plight.
Muench's word choices catch a hard gentility of body and mind withprecise and vile moments: "my skin is soft/the safety's off." And Orange Crush is highly musical; at timesit has the pace of a horror-movie score, leading the reader through blows,lacerations, and violent deaths. But the poems don't offer observation from a point of weakness, quitethe opposite. There is no whining, only a continued fascination, and, in somecases, enjoyment in the said depravity.
"[These poems] acknowledge the violence inherent in human beings," yetrealize our "choosing creation over destruction, to both survive andresist … empathy," offers Muench by way of context. One of today's best poets, she has produced an astonishing workthat is poignant, tells a story, and both challenges and pleases the reader. Allin all, his is a highly effective, alarming collection of poems.
from "Orange Girl Suite"
hunter, I hand you
a red sweater, whisper
of precipitation.
trigger-happy laughter
in the light-latticed
forest. you burn
my nightgown
to undergrowth
in this feral
season. overseer
to all small
deaths, your lips
an orange smear
of cordiality.
---
Mark Eleveld is a co-founder of EM Press (www.em-press.com), editor of The SpokenWord Revolution, and host of Slam theRadio: Poetry on Sirius/XM radio. He programmed the first Poetry Jam atthe White House for the President and Mrs. Obama in 2009.