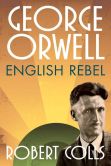 On this imagined day in 1984, as the clocks struck thirteen, George Orwell's Winston Smith gulped down a teacup of VICTORY GIN, lit one of his VICTORY CIGARETTES, found a corner not in view of his telescreen, and turned to the first blank page of his diary:
This was not illegal (nothing was illegal, since there were no longer any laws), but if detected it was reasonably certain that it would be punished by death, or at least by twenty-five years in a forced labour camp. Winston fitted a nib into the penholder and sucked it to get the grease off. The pen was an archaic instrument, seldom used even for signatures, and he had procured one, furtively and with some difficulty, simply because of a feeling that the beautiful creamy paper deserved to be written on with a real nib instead of being scratched with an ink-pencil. Actually he was not used to writing by hand. Apart from very short notes, it was usual to dictate everything into the speakwrite which was of course impossible for his present purpose. He dipped the pen into the ink and then faltered for just a second. A tremor had gone through his bowels. To mark the paper was the decisive act. In small clumsy letters he wrote: April 4th, 1984.
George Orwell: English Rebel, the title of Robert Colls's just-published biography, confirms that the author had much in common with his defiant hero. Orwell's own diaries, covering almost all of his writing life, have also just come out, with an Introduction by Christopher Hitchens: "By declining to lie, even as far as possible to himself, and by his determination to seek elusive but verifiable truth, [Orwell] showed how much can be accomplished by an individual who unites the qualities of intellectual honesty and moral courage."
---
Daybook is contributed by Steve King, who teaches in the English Department of Memorial University in St. John's, Newfoundland. His literary daybook began as a radio series syndicated nationally in Canada. He can be found online at todayinliterature.com.