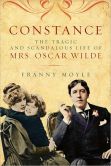 Oscar Wilde's "The Ballad of Reading Gaol" was published on this day in 1898, nine months after the author's release from prison. Dedicated to a Royal Horse Guards trooper who, during Wilde's term at Reading, was hanged for killing his wife, the poem is a plea against the death penalty. But the famous line "Yet each man kills the thing he loves" and passages such as the following have encouraged a more autobiographical reading:
…We saw the greasy hempen rope
Hooked to the blackened beam,
And heard the prayer the hangman's snare
Strangled into a scream.
And all the woe that moved him so
That he gave that bitter cry,
And the wild regrets, and the bloody sweats,
None knew so well as I:
For he who lives more lives than one
More deaths than one must die.
In letters written about the time of the poem's publication, Wilde makes clear that the lives he had dared to live had now dwindled to "ill-health, loneliness and general ennui with a tragic-comedy of an existence." One component on the tragic side related to his own wife and children, with whom he hoped to reconcile. Constance wrote her husband a letter a week and clearly wished for some sort of new life together, but she suspected that Wilde was more interested in her money and in living with Lord Alfred Douglas. "Blown about by contrary winds," Constance delayed her decision about reconciliation; then she died during surgery to correct spinal damage caused by a fall down the stairs.

About eighteen months before his own death, Wilde — now moving about Europe in search of company and handouts — visited his wife's grave; the gravestone referred only to "Constance Holland," Wilde now incognito as "Sebastian Melmoth." "I was deeply affected," he afterward wrote a friend, "with a sense, also, of the uselessness of all regrets. Nothing could have been otherwise, and Life is a very terrible thing."

In her biography Constance: The Tragic and Scandalous Life of Mrs. Oscar Wilde (2012) Franny Moyle cites, as evidence of "the deeply intimate nature of their mutual understanding," Wilde's 1886 poem to his wife, written two years into their marriage. The poem was inscribed on an early page in the guest book the couple used at their popular "House Beautiful"; it refers to their love as a fallen rose petal:
…And when the winds and winter harden
All the loveless land,
It will whisper of the garden,
You will understand.
---
Daybook is contributed by Steve King, who teaches in the English Department of Memorial University in St. John's, Newfoundland. His literary daybook began as a radio series syndicated nationally in Canada. He can be found online at todayinliterature.com.