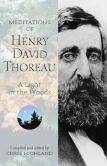 On this day in 1862 Henry David Thoreau died at the age of forty-four. As might be expected from the writer of "I never found the companion that was so companionable as solitude," Thoreau could be socially difficult. "I love Henry," an unnamed friend said, "but I cannot like him — and as for taking his arm, I should as soon think of taking the arm of an elm-tree." Even Emerson grew to dislike his friend's contrariness: "Always a weary, captious paradox to fight you with," he wrote in his journal. (In his journal, Thoreau shows how he could get just as tired of Emerson's "palaver," his "repeating himself, shampooing himself, [as if] Christ himself.")
Emerson included some criticism in his eulogy of Thoreau, regretting that the "born protestant" always "wanted a fallacy to expose, a blunder to pillory," and never lived up to his potential: "…instead of engineering for all America, he was the captain of a huckleberry party." But Emerson also chuckled over his friend's talent for terseness — for example, the time at dinner when he answered a question about which dish he preferred with, "the nearest" — and paid sincere tribute to Concord's rare, deep woods flower:
It seemed as if the breezes brought him,

It seemed as if the sparrows taught him,

As if by secret sign he knew

Where in far fields the orchids grew.
Thoreau says that while living in his cabin he taught a mouse to come to the sound of his flute. The flute is now in the Concord Museum, both Thoreau's and his father's name carved into it. Louisa May Alcott's poetic eulogy to Thoreau is called "Thoreau's Flute":
We sighing said, 'Our Pan is dead;

His pipe hangs mute beside the river

Around it wistful sunbeams quiver,

But Music's airy voice is fled….'
---
Daybook is contributed by Steve King, who teaches in the English Department of Memorial University in St. John's, Newfoundland. His literary daybook began as a radio series syndicated nationally in Canada. He can be found online at todayinliterature.com.