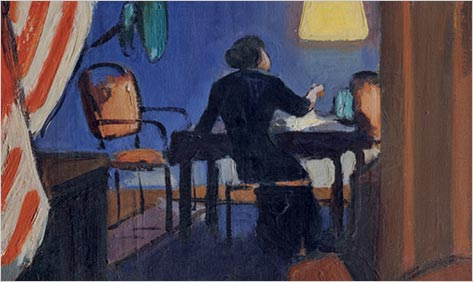 Franz Werfel (1890-1945), an assimilated Jew born in Prague under the Austro-Hungarian Empire, is hardly known today as a "Jewish writer," and many of his contemporaries considered him a Jew in name only, perhaps even a crypto-Catholic. This misconception is due to the phenomenal success of his 1942 Song of Bernadette, a novel imagining the life of the nineteenth-century saint whose repeated visions of the Virgin Mary at Lourdes led to her canonization. This book spent more than a year on the New York Times bestseller list and was subsequently adapted into a schlocky movie starring Jennifer Jones, after which Werfel's high intellectual credentials took something of a hit. Werfel's other best-known novel is The Forty Days of Musa Dagh (1933), a powerful exposé of the Armenian genocide of 1915 and another book apparently more concerned with things Christian than with things Jewish.

Werfel's ecumenical spirit was fostered by his family, who sent him to be educated in a school run by Piarist Fathers even as he prepared for his bar mitzvah. As a university student, he dabbled in Theosophy and the occult and retained throughout his life an interest in comparative religions. His central Jewish identity, considering the times he lived in, could never have been far from his thoughts. He established himself as a successful playwright in Vienna and married the serial wife and muse Alma Schindler, who had previously been married to Gustav Mahler and Walter Gropius and romantically linked to Gustav Klimt and Oskar Kokoschka. At the Anschluss — the incorporation of Austria into the German Reich — the Werfels fled to the South of France, where they stayed for two years, until France was itself invaded by the Germans. It was here, in 1940, that Werfel wrote his evocative and morally challenging novella Pale Blue Ink in a Lady's Hand, now fully translated into English for the first time by James Reidel and published by David R. Godine.

Deceptively simple in style and structure, this tale of one day in the life of a high-level Austrian civil servant of 1936 is one of considerable emotional complexity. Many of us must at some point make the sort of decisions that are presented to Leonidas Tachezy, but their implications in our more easygoing and contingent world are less stark, certainly less dangerous and compromising, than those of Leonidas's historical moment, which was the so-called Ständestaat: the Austrian corporate state of 1934-38, modeled on that of Mussolini and soon to be subsumed into Hitler's Reich.

Leonidas is one of the cynosures of haute-bourgeois, fascist Vienna, "having turned fifty and reached the top of his brilliant career all at once…. Several times a day he considered himself to be an utter darling of the gods. If one were to question his 'world view,' he would openly admit that he regarded the universe as a venue whose sole intent and purpose was to pamper those divinely favored like him." He is tall, blond, well groomed, fit, powerful.

But it was not always thus; Leonidas is a self-made man. The son of a high school teacher, he financed his own education by tutoring boys from better-off families, whom he viewed with devouring envy and resentment. It seemed impossible that he should ever escape this base life — until one day luck turned in his favor: his fellow student and neighbor at his grubby boardinghouse, an "intellectual Israelite," shot himself in his room and willed his tuxedo to the penurious Leonidas.

"That suit — whoever possesses one can go to balls and other social events. He who looks good in a tailcoat and has a certain talent for dancing the way Leonidas did, can make people like him fast, make friends, become acquainted with radiant young ladies, get invited into the 'best homes.' " The suit got him acquainted with the beautiful Amelie Paradini, the richest heiress and greatest catch in Vienna. Amelie liked what she saw and was determined to have Leonidas at any cost. All these glittering prizes were obtained for Leonidas by the tuxedo of the doomed intellectual Israelite.

That was twenty years ago; now Leonidas, as we have seen, has reached life's high point and is standing "poised to slowly descend its stairs," while Amelie, approaching forty, has kept her girlish looks thanks to a caloric intake about equal to that of the desert fathers and "constant cosmetic care, which she took as seriously as a divine duty." The two of them are certainly the darlings of the gods — in fact they just might be gods themselves! The only gift a beneficent Providence has not been bestowed upon them is progeny. Not that they have ever regretted it.

And now comes to Leonidas a letter in pale blue ink, in a lady's hand. He recognizes the hand; it is that of Vera Wormser, the love of his youth. As a young man he had tutored her brother; in her father, he remembers, "I made my first acquaintance with the perfect 'intellectual Israelite,' given his reverence for printed paper, with his deep faith in open-minded inquiry, which in these people replaces natural instincts and self-control." In spite of Vera's Jewishness, Leonidas loved her. Or perhaps because of it? He rejoiced, after all, in "the purity of her mind and something sweetly foreign that brought me to the edge of shuddering with ecstasy." But the choice between the very human Vera — whose name of course means "truth" — and the divine Amelie of the great house of Paradini was never, for Leonidas, a real question.

Now the news comes (Leonidas can't be too sure from the wording) that he might, just might, be the father of an eighteen-year-old son — Vera's. It is a revelation, suggesting a complete reassessment of life. "Now, at fifty," he thinks to himself, "you suddenly have a son from this tribe." All his received ideas, his easy accommodation with the fascist ideology imposed upon him as a civil servant, are suddenly challenged. "Leonidas fancied himself strong enough for the truth now, for the renewal of his life." But the quest for self-discovery on which this possible gift launches him inevitably finds him wanting, incapable of rising to the truth. He is not a god after all, it turns out, but merely a "freedman" — a freed slave, that is, like those of the Roman Empire, whose early apprenticeship in ambition has undermined his moral strength. As he and Amelie dress for the opera at the end of this long, traumatic day, she "appraises him and sees an elegant man who wears a gray and crumpled face screwed on above the dazzling breast of his tuxedo."

As this sentence shows, Franz Werfel could write devastating prose. That prose is simple and makes only sparing use of descriptive passages, a fact that renders such passages all the more arresting when they do show up. The Tachezys' garden, for example, "retained that leathery persistence of summer." Later in the day, as Leonidas's stress level rises, "The clouds no longer sailed by as puffs of perfectly rendered steam. Now they hovered low with the color of dusty furniture covers." This is the kind of thing Werfel can pull off with a sure aim. But while translator James Reidel has a knack for apt descriptive vocabulary, the syntax is often sloppy in a way that jars with Werfel's otherwise elegant prose. Would a highly educated, status-conscious bureaucrat like Leonidas really use the word "hopefully" so often, and in the incorrect sense? Would Werfel condone the jarring and frequent use of "like" instead of "as if" or "as though," not to mention modern solecisms like "alright" and "anymore"? What about fundamental errors that would be weeded out in a Translation 101 class, such as "For some months now he was the section chief at the Ministry of Culture and Education"?

Such frequent gaffes harm the translation, but Werfel's mastery is not seriously jeopardized. Why, then, has this tale remained unknown in this country? Perhaps it was simply bad timing. Werfel finished the novella in April 1940, one month before Hitler's armies invaded France. Werfel and Alma had to flee once again, this time ending up among the distinguished community of Central European intellectual exiles in Southern California. Pale Blue Ink in a Lady's Hand was then published in German by Editorial Estrellas, a Jewish exile press in Buenos Aires. American publishers might still have considered it too grim, for when an English translation was eventually published in a 1944 edition of American Magazine it was significantly abridged, with much of the sexual and anti-Semitic material removed. Pale Blue Ink in a Lady's Hand was rediscovered by Europeans in the 1970s, even becoming required reading in some schools; but this edition, published more than seventy years after the book was written, will be new for most American readers. As a hitherto missing piece of Franz Werfel's life and career it will interest the specialist; as a peculiarly vivid letter from a strange and not-too-distant past, it should compel us all.