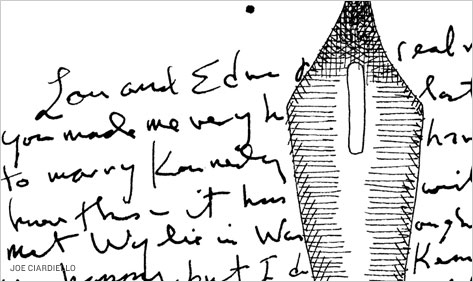 The portrayal of blacks in American culture has too often struck the same stereotypical notes. The election of Barack Obama, by placing a loving black family in the White House, may serve as a corrective to persistent images of the dysfunctional black household. Similarly, Letters from Black America, the new collection edited by author and journalist Pamela Newkirk, adds welcome dimension to representations of the black experience. The book, the first of its kind, includes letters from the 18th century to the present day. Its contributors range from anonymous slaves to civil rights icons, from everyday citizens to celebrated authors, and their writings are by turns devastating, uplifting, playful, prosaic — in short, the full range of human expression. In our recent email conversation, Newkirk described the roots of the project, her selection process, and the difficulty future historians will face assembling collections like this one. -Barbara Spindel

B&N Review: How did you become involved in this project?

Pamela Newkirk: I was raised in a home where the ephemera of black life was all around me. My father was an antique dealer who maintained his own personal collection of black memorabilia. In my home you could find the posters, letters, rare books, and photographs of figures like Marcus Garvey, Paul Robeson, and Father Divine. Many of the people who were minor figures in popular culture held a prominent place in our home.

Later, as a journalist, I was struck by the ways in which the historical and contemporary contributions of African Americans were often marginalized. I addressed this marginalization in my first book, Within the Veil: Black Journalists, White Media.

Finally, as a reader, I always loved epistolary collections, but wondered why the letters of African-Americans were rarely included. My first epistolary effort was A Love No Less, a collection of African American love letters. Letters from Black America, with more than 200 letters from the 1700s to 2008, is far more ambitious and seeks to paint a multidimensional portrait of black life through the public and private missives of ordinary and extraordinary African Americans.

BNR: How did you go about choosing the letters to include?

PN: I found many of them in public archives, including the Library of Congress, the National Archives, the Schomburg Center for Research in Black Culture, and the Moorland-Spingarn Library at Howard University. I also embarked on an extensive outreach effort to African Americans in entertainment, politics, media, business, education, the military, and the like. My public call for letters was posted on listservs, in newspapers, and circulated word of mouth. I reviewed thousands of letters, and I tried to touch on important periods in black life, from slavery and the Civil War through Reconstruction, post Reconstruction, the rise of black nationalism, the Civil Rights Movement, up to contemporary times. I selected letters for their literary merit, poignancy, historical significance, or humor.

BNR: You allude in the introduction to the difficulty in obtaining permissions. Did many writers or estates you approached ultimately deny permission? What seemed to be holding them back?

PN: Pursuing permissions was a daunting and sometimes dispiriting task. In the end I had to cut many compelling letters due to the prerogative of the estates that declined to grant permission. Reasons varied: some said they believed the letters were private, even those that were personally placed in the archives by the correspondents; others cited financial incentives to hold off for a better deal; and still others said they planned to someday publish their own collections.

I suspect that some public figures were intimidated given the inclusion of letters written by the likes of Martin Luther King, Jr., W.E.B. Du Bois, and Paul Laurence Dunbar. I also believe the resistance was due in part to a natural wish for privacy, skepticism over how their letters would be treated, fear that submitted letters would be rejected, and a failure to see the correspondence — either their own or their ancestors' — as important pieces to the puzzle of a collective history. Sadder still are the many letters that are discarded because of a prevailing sense of their unimportance. So many told me about the piles of letters from soldiers, former lovers, or parents and grandparents that they had discarded.

BNR: On the other hand, were there particular letters that you considered a real coup in being able to include?

PN: Yes, I was thrilled to get permission to publish the letters written by Alice Walker and Toni Morrison to Barack Obama. Walker's was written on November 5th, one day after his historic election. The first major coup was King's "Letter from a Birmingham Jail," along with personal letters to his family. That was followed by permission to publish important letters by Du Bois. That's when I knew I had a book.

Many of the most important writers of the 20th century are represented in the volume, including Morrison, Walker, Ralph Ellison, Zora Neale Hurston, and Richard Wright. I was initially denied permission to publish several letters by James Baldwin but on appeal was finally granted permission to publish his compelling letter to his nephew on the 100th anniversary of the Emancipation Proclamation.

BNR: I thought that was one of the most powerful letters in the collection. Like Du Bois' 1914 letter to his 14-year-old daughter studying in England (he tells her to "know that brown is as pretty as white or prettier and crinkly hair as straight even though it is harder to comb") and a letter from a teenage Martin Luther King, spending a summer working in Connecticut, to his father (he tells him that "the white people here are very nice"), it offers a fascinating look at how some public figures privately discussed race within their families.

PN: I agree. The fact that nice white people was worth noting speaks volumes about his common experience in the South. I also found his letter to his pregnant wife while he was in prison quite moving. He said while he knows the experience is difficult in her condition, "as I said to you yesterday this is the cross we must bear for the freedom of our people." We often think of King's sacrifice, but this casts light on his family's.

I also found the exchange between Jean Toomer and James Weldon Johnson fascinating. Johnson had asked Toomer, who gained prominence during the Harlem Renaissance, to contribute a poem to his Negro anthology. Toomer declined, and seemed, like Tiger Woods, to reject the rigid racial branding that rendered him exclusively Negro. Saying that he did not want to contribute to anything that emphasized racial difference, he added: "My poems are not Negro prose, nor are they Anglo Saxon or white or English poems. They are, first, mine."

BNR: Are there other private letters here that have particularly enriched your understanding of public figures?

PN: Yes, nearly two decades before he achieved fame with the publication of Invisible Man, Ralph Ellison wrote soul-stirring letters from Harlem to his mother noting his frustration and disgust with their mutually impoverished lives despite their hard work in unrewarding menial jobs. "I find myself wishing the whole thing would explode so the world could start again from scratch."

The bravery, pride, and patriotism of Lewis Douglass — Frederick Douglass's eldest son, who was among the first blacks to enlist in the Civil War — is laid bare in a letter to his fiancée. After a brief description of battle, he says, "If I survive I shall write you a long letter … Remember if I die, I die in a good cause. I wish we had a hundred thousand colored troops — we would put an end to this war."

BNR: We've touched on a lot of the well-known figures in your book, but many of the letters come from uncelebrated African Americans. There are a few wrenching letters between slaves, some of whom are writing to loved ones they've been separated from by the slave trade. These are striking for their religious faith, for example the man being sold away from his family who writes his wife, "If we shall not meet in this world I hope to meet in heaven." Since literacy rates were so low among slaves, these really are remarkable documents. Can you say more about letters by slaves — i.e. how rare they were, how they've been preserved, whether you think more might exist, safeguarded by families but not yet available to historians?

PN: Yes, the slave letters are wrenching. They show the extent to which African Americans, torn apart by the brutal institution of slavery, tried to preserve a semblance of family life. Faced with the prospect of lifelong separation from their loved ones, they looked to the afterlife for solace. These letters show us that despite their degradation, slaves valiantly struggled to maintain their humanity and familial bonds.

And yes, these letters are quite rare for a number of reasons, among them the mandated illiteracy of slaves; the risky proposition of mailing and receiving them; the inability of slaves — devoid of privacy or belongings — to preserve them; and the extent to which the ephemera of African American life have historically been discarded. These letters are more often found in the family papers of white owners, who either intercepted them before delivery or took ownership of them when they were discovered. There is no way to know how many of these letters remain in private hands due to a reluctance of white families to expose their slave-holding ancestry. Fortunately, because of the dozens of letters written to abolitionist newspapers and government officials, including President Lincoln and the military, a number of important letters written by slaves were preserved in archives.

BNR: What for you is the primary value in assembling a collection like this one?

PN: The letters of African Americans, like so much in African American life, have long been devalued. The primary purpose of this collection is to raise awareness of the need to collect and preserve these irreplaceable historical relics. It is my hope that individuals from all walks of life will see in this collection the value of their own personal correspondence, and that of their ancestors. Given the waning art of letter-writing, the preservation of letters takes on even greater significance.

In the past people cherished letters. But in this era of email and text messaging, so much of our heartfelt written impressions vanish soon after they're read. These letters remind us what has been lost in the name of progress. Given the fleeting nature of our communiques, many of our contemporary reflections will not be recorded for future generations. This will pose an enormous challenge for historians.

BNR: But you did include some email in the collection. Did many people send you email to consider? Did you get the sense that people do print out and hold on to significant email, treating it the way letters have been treated?

PN: I thought I would be inundated with email but in the end received very few. Email is typically written for a moment in time, not for eternity the way letters often were and are. I don't think any of us would want our writing to be judged by our email. Still, I was surprised by how few email submissions I received given the vast quantity that surely exist. And no, I don't get the sense that people preserve email the way they once did letters. Because of the spontaneity and informality of email, many of us don't commit the same level of care to their composition, which makes them less worthy of preservation. Even when they're well-written, they can't compete with the sentimentality of a letter replete with individual traits including penmanship, stationery, a quirky typewriter that dropped or raised a letter, and a stamp and postmark. These features, along with the writing itself, combine to raise the letter to an art form.

BNR: Are there any letters that we haven't addressed that you want to call attention to? A sentimental favorite, maybe?

PN: I have so many favorites. I love the letters written by the Watson and Granger families, which dispel the stereotype of the dysfunctional black family. I was particularly struck by the sensitive and loving relationships between black fathers and sons, a relationship that is rarely positively portrayed in popular culture.

Of the wonderful love letters, I was struck by the progressive thinking of Roscoe Conkling Bruce , who in 1903 wrote this to his fiancée, a student at Radcliffe College: "I pray that we may be always the creatures of poetry and romance that now we are; I pray that I may make you always happy; I pray that your life will not be narrowed by marriage but enlarged; I pray that we may be useful and worthy always. Let us, whatever comes, never forsake our scholarly interests; let us never degrade our ideals; let us always live on the summits of experience & let us always be simple & noble & sensible & just." More than a century ago he described what many women would consider an ideal marriage today!