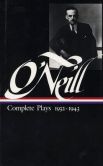 Eugene O'Neill's Strange Interlude opened on Broadway on this day in 1928. Despite being over four hours long and packed with stream-of-consciousness soliloquies, the play ran for over a year, won O'Neill his third Pulitzer, and crowned the decade of hits that earned him the 1936 Nobel Prize. The story is a tangle of intimacy and guilt spread over twenty-five years, at the end of which two of the three caught in a lover's triangle try to move on:
Darrell: …So let's you and me forget the whole distressing episode, regard it as an interlude, of trial and preparation, say, in which our souls have been scraped clean of impure flesh and made worthy to bleach in peace.

Nina: Strange interlude! Yes, our lives are merely strange dark interludes in the electrical display of God the Father….
Some recent productions of the play have found humor, most of it not intended by O'Neill. But Strange Interlude provoked parody from the beginning, most notably in the Marx Brothers' musical hit Animal Crackers. This also opened in 1928 and for several months packed them in just down the street from O'Neill's play, giving the avid theatergoer the opportunity to immediately swap the tragic mask for the comic. In Animal Crackers, Groucho is also caught in a love triangle and also escapes to soliloquize: "If I were Eugene O'Neill I could tell you what I really think of you two…. Pardon me while I have a strange interlude…."

Whether O'Neill found Animal Crackers amusing his biographers do not say, but T. S. Eliot, another modernist who specialized in the inner voice, was a fan. The following is excerpted from Groucho's letter to his brother Gummo describing his evening as Eliot's dinner guest in 1964:
Well, sir, as the cocktails were served, there was a momentary lull — the kind that is more or less inevitable when strangers meet for the first time. So, apropos of practically nothing (and not with a bang but a whimper) I tossed in a quotation from The Waste Land. That, I thought, will show him I've read a thing or two besides my press notices from Vaudeville.
Eliot smiled faintly — as though to say he was thoroughly familiar with his poems and didn't need me to recite them.… He seemed more interested in discussing Animal Crackers and A Night at the Opera. He quoted a joke — one of mine — that I had long since forgotten. Now it was my turn to smile faintly….
---
Daybook is contributed by Steve King, who teaches in the English Department of Memorial University in St. John's, Newfoundland. His literary daybook began as a radio series syndicated nationally in Canada. He can be found online at todayinliterature.com.