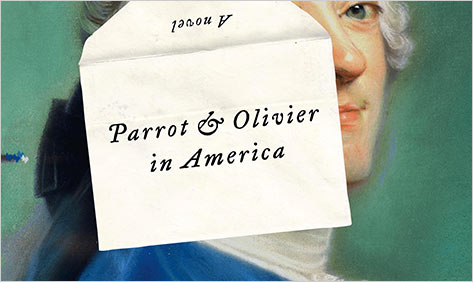 Peter Carey's eleventh novel, an "improvisation" on the life of Alexis de Tocqueville, offers no serious revelations about that nineteenth-century French aristocrat's views on democracy in America, and for that we should be grateful. What a crashing bore that would be. Instead of a novel of ideas, Parrot and Olivier in America is a big, trippy, often strangely beautiful novel of observations, with proper focus on the interplay between the two self-absorbed personalities doing the observing.
Carey is a two-time Booker Prize-winning Australian writer who's lived in America for twenty years, and while many of his novels feature characters torn between two countries — most notably Jack Maggs and Oscar and Lucinda — his latest book expands that displacement, ranging extravagantly over early nineteenth-century England, France, Australia, and America. Carey's two fugitives here are the 26-year-old nobleman Olivier-Jean-Baptiste de Clarel de Barfleur de Garmont (to be loosely confused with the real-life Comte Alexis-Charles-Henri-Maurice Clérel de Tocqueville) and his fiftyish English valet, John "Parrot" Larrit.
What yokes this most unwilling master and servant, each of whom instantly detests the other, is the authority of the Marquis de Tilbot, a formidable presence in both their lives. "Big and ruddy as a side of beef," and operating without the benefit of his left arm ("presumably sliced away by some horrid machine"), Tilbot is a dear friend of Olivier's mother, the staunchly royalist Comtesse de Garmont, who reveres Tilbot for his heroic leadership in a peasant uprising against the Revolution back in 1793. Semi-retired now in 1831 but still an enthusiastic meddler, the Marquis expresses concern for Olivier's safety during the precarious early days of the July Monarchy, and advises the Comtesse, who's still reeling from revolutionary post-traumatic stress, to send the young man to America.
Asthmatic, headachy, and prone to nosebleeds, Olivier is less than delighted about this voyage, during which he is ostensibly to make a study of American prisons. He's unhappier still with the forced loan of Tilbot's longtime servant Parrot — a "common clown" with a gift for both mimicry and illustration whom Tilbot engages to serve as Olivier's secretary but also to report secretly on his whereabouts to Olivier's anxious maman.
For his part, Parrot is even crankier about his compulsory journey to America in the service of the effete little aristocrat whom he dubs Lord Migraine. His complex history with the Marquis, his "frightening benefactor," which spans decades and continents and unfolds gradually throughout the narrative, has caused in him an aversion to wandering. Coerced by Tilbot to abandon one household after another in England, Australia, and France, middle-aged Parrot now wants only to be settled, and to pursue his dreams of working as an artist alongside his current amour, a comely French painter called Mathilde.
This is only Carey's set-up, yet already he's developing his intention to blend the cinematic with the picaresque: it's a fish-out-of-water and a buddy story, with un poco Quixote, a dash of Jeeves and Wooster, and a soupçon, naturally, of Tocqueville, some of whose biographical dates and details here are faithful. (Parrot, though, is entirely Carey's invention.)
During the course of their American sojourn, these two will take turns being dazzled, appalled, bored, and moved beyond imagining by the rough-hewn, dizzyingly alien democratic panorama, which includes pig stampedes in New York's Hudson Square; nascent displays of housing foreclosures, insurance fraud, and art-market inflation; "the American autumn, in all its drunken wildness"; and the fidgety push of buyers and sellers on Broadway, who "banged against one another like marbles in a lottery barrel." The pair will bicker, separate, reunite, rescue each other, and, because everything is possible in the land of the free, they'll occasionally exchange roles as master and servant.
It's in this fluidity that Carey's novel reaches for something a bit deeper than mere entertainment. While Olivier and Parrot are both prisoners of their stations and their pasts, and agree about virtually nothing, they do manage to loosen into sympathy for each other. "A person like my servant was a foreign land," admits Olivier, "so although I might very sincerely wish to imagine him, how might I begin?" First, by acknowledging that both were traumatized children: Olivier grew up bedeviled by the specter of the Revolution, in which many of his relatives, and very nearly his parents, had their heads shorn by the guillotine; Parrot was torn away from his father, an itinerant Dartmoor printer with radical leanings, to be indentured to the sinister Marquis. And second, by their mutual recognition that "the great lava flow of democracy," with all its vulgarity and potential misuse, is civilization's best way forward. In the New World, Parrot might never quite attain liberty, and Olivier might always distrust equality, yet by believing in America's possibilities they lurch toward an unlikely fraternity.
But don't mistake this fuzzy sentimentality for an attempt at conventional novelistic tidiness. Although several reviewers have already called Carey's book Dickensian — as so many long, vaguely antic novels are inevitably mislabeled — its slyly off-kilter, hallucinatory sensibility places it more accurately in the picaresque postmodern tradition, hacked from the same big lumber as Thomas Pynchon's Mason and Dixon or Stephen Wright's The Amalgamation Polka. And there is also, unmistakably, an inflection here of Australia, whose often-lethal landscapes and haunted colonial past have generated the extreme fiction, also frequently hallucinatory, of writers like Patrick White, Janette Turner Hospital, and David Malouf.
That an Australian novelist who now lives in New York might be drawn to Tocqueville is hardly a surprise. In fact, it would be tough to find an American with a generally sunny view of democracy who doesn't claim to love Tocqueville — including those, like Carey, who have actually bothered to read him. What's more surprising is the fact that Parrot and Olivier in America manages to be a successful novel without truly being about Tocqueville, or America, at all. Vibrant and accessible, funny and often quite stirring, it only makes sense within the confines of its own loopy universe; yet the world it creates is gratifying. In creating characters that are both lifelike and original, Carey proves that, while a novel's jurisdiction is unlimited, its allegiance is only and always to itself.