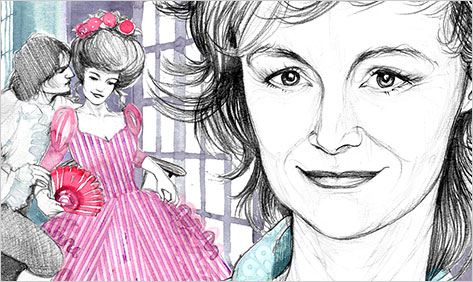 Romances are often condensed into their happy endings. But the list of my favorite reading moments doesn't include the last kiss: I adore it when the hero or heroine walks. It's over. He dusts off his hands, spits out a final insult, and leaves. Not just into the next room, either — out of the house, perhaps even out of the state. In these five romances, one character watches with an aching heart as the other moves on; in three of them, a baby exacerbates the situation. There's an utterly delicious angst that comes along with vicariously experiencing a character's hell as the best thing in his life walks out the door.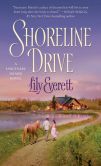 Lily Everett's Shoreline Drive opens with a dramatic scene as the vet on Sanctuary Island, Dr. Ben Faulkner, races through a ferocious storm to reach single mother Merry Preston before she gives birth. Ben is a taciturn, sarcastic man who's given up on marriage and family, at least until he finds himself holding little Alex. Pretty soon he's managed to convince Merry to marry him in return for financial security. They're roommates rather than lovers, but once they fall into bed, that rapidly changes. All is well until Alex's father shows up, eager to have a place in his son's life and perhaps in his former girlfriend's as well. Will a man as proud as Ben stay around, particularly if he's standing in the way of Alex's "real" father?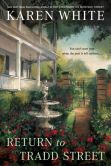 There's an unborn baby in Karen White's Return to Tradd Street as well — not to mention a baby ghost. Melanie Middleton broke up with her boyfriend Jack Trenholm when she discovered she was pregnant, and told Jack she loved him. Jack did not lie in response; his answer was a grim, "I'm sorry." So now Melanie is coping with morning sickness on her own…not to mention the tiny coffin that just been discovered in her house's foundations and has probably been there for decades. Melanie has a lot to cope with: the crying baby ghost, morning sickness, and a handsome cop who seems interested despite her condition. But Jack reappears when the coffin is discovered, and Melanie is justly irritated: "Are you lost? The erectile dysfunction clinic is on Broad Street." Return to Tradd Street is a ghostly, sexy, funny novel, a brilliant end to a most enjoyable series.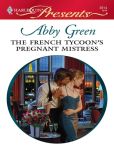 I grew up reading Harlequin Presents, and I still think these small books offer an amazing read. A good HP is like a small firework, with the couple shooting sparks in all directions. It'll be no surprise to learn that there is yet another unborn baby in Abby Green's The French Tycoon's Pregnant Mistress. Irish TV reporter Alana Cusack gets involved with a French banker, Pascal Lévêque, and thereafter quickly — well, the title is something of a giveaway. (I think it's fair to say that heroines in HPs are particularly fertile.) When Alana loses her job, Pascal whisks her off to his penthouse in Paris. Even though the two of them practically burn up the bed, they have multiple reasons to mistrust each other, and Alana finally decides she simply cannot trust a French playboy. So she says good-bye and returns to her job in England. The small canvas of an HP actually encourages startling originality: the ending of this book is particularly enjoyable.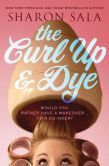 Sharon Sala's The Curl Up & Dye centers around a beauty shop in the middle of Blessings, Georgia, one of those tight-knit communities in which everyone's life is open to examination — and things only change when a stranger comes to town. LilyAnn Bronte used to be the prettiest, smartest girl in Blessings, but after her boyfriend was killed in Iraq, she went to pieces. Eleven years later she's shelving aspirin in the drug store, still visiting his grave, eating too much — and ignoring the fact that her neighbor and best friend, Michael, is desperately in love with her. Then a tough guy on a motorcycle rides into town, and before she knows it, LilyAnn has cut her hair and she's on a diet. But is the motorcycle man really the one she wants? Michael has been patient while LilyAnn grieved, but he refuses to watch her lust after a guy on a bike. Almost before she knows she wants him, he's out the door, which leaves LilyAnn on a path to spending Christmas (and every other holiday) by herself.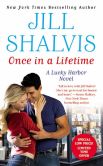 Jill Shalvis's Once in a Lifetime also takes place in a small town, and as with LilyAnn, the hero needs to move past the memory of his dead spouse. Frankly, I thought Shalvis hit this one out of the ballpark: Once in a Lifetime is hilarious with a drop of sadness, and I adored the heroine. Aubrey Wellington is working toward the opening of her own bookstore, but she has another secret plan: she's made a list of the people she insulted or hurt in the past, and she's determined to make amends to each one. Her grandfather hires Ben McDaniel, who's back from working in war-torn countries, to construct bookshelves in her store. Ben begins helping her with her secret list, and before long they're in bed, having an outrageously sexy, funny affair — although they make a big point of ritualistically telling each other that all their wild sex means nothing. Just as it's getting hard for either of them to believe it, Ben's name comes up on Aubrey's list. "I didn't know how to fix it," she tells him. But once Ben hears what she has to say, he knows the answer: "It can't be fixed." He's gone. Out the door. It's over. Delicious!
---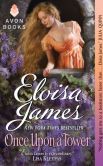 Eloisa James's latest romance is Once Upon a Tower; you can browse all of her books here.

You can check out Eloisa's past columns in the Archives, and if you'd like to get her reactions to romances as she reads them, follow her on Facebook or Twitter.
For sneak peeks at all of Eloisa's romances, please visit her web site at www.eloisajames.com.