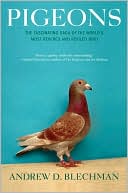 "Martha," the last passenger pigeon, died on this day in 1914. Her body was sent to the Smithsonian and mounted in a display case with this elegiac placard:
MARTHA

Last of her species, died at 1 p.m.,
1 September, 1914, age 29, in the
Cincinnati Zoological Garden.

EXTINCT
The decline of the passenger pigeon — from an estimated 3-5 billion to Martha in 400 years — is recounted in Andrew Blechman's Pigeons: The Fascinating Saga of the World's Most Revered and Reviled Bird (2007). In the course of telling the "seemingly incomprehensible, not to mention heartbreaking, end to what was once the most populous bird in the Western Hemisphere," Blechman quotes from J. J. Audubon's description of a trip he took along the banks of the Ohio in 1813:
The air was literally filled with Pigeons; the light of noon-day was obscured as by an eclipse, the dung fell in spots, not unlike melting flakes of snow; and the continued buzz of wings had a tendency to lull my senses to repose.… Before sunset I reached Louisville, distance from Hardensburgh fifty-five miles. The Pigeons were still passing in undiminished numbers, and continued to do so for three days in succession. The people were all in arms. The banks of the Ohio were crowded with men and boys, incessantly shooting at the pilgrims…. Multitudes were thus destroyed.
Audubon's indictment is elaborated in "Passenger Pigeons," by Robinson Jeffers, regarded as one of America's earliest and most devoted environmental poets. Jeffers's poem links the passing of the passenger pigeon to many other extinctions; at the end of the poem, the speaker insists that mankind is exempt from such a fate, telling Death to "Roll those black idiot eyes of yours" in some other direction:
With pain and wonder and labor we have bought intelligence.
We have minds like the tusks of those forgotten tigers,
hypertrophied and terrible,
We have counted the stars and half-understood them,
we have watched the farther galaxies fleeing away
from us, wild herds
Of panic horses — or a trick of distance deceived by the prism —
we outfly falcons and eagles and meteors,
Faster than sound, higher than the nourishing air;
we have enormous privilege, we do not fear you,
We have invented the jet-plane and the death-bomb
and the cross of Christ — "Oh," he said, "surely
You'll live forever" — grinning like a skull, covering his mouth
with his hand — "What could exterminate you?"
---
Daybook is contributed by Steve King, who teaches in the English Department of Memorial University in St. John's, Newfoundland. His literary daybook began as a radio series syndicated nationally in Canada. He can be found online at todayinliterature.com.