The shapely pleasures of a favorite food.
---
By Jen Lin-Liu

As Jen Lin-Liu feasted on tagliatelle, spaghetti, and linguini on her honeymoon in Italy, she started to consider the origins of the noodle — and found herself traveling east, tracing the Silk Road to China, where the ubiquitous starch was born. From dumplings in Beijing all the way to tortellini, Lin-Liu's chronicle of the global as well as personal history of pasta is a fascinating look into the enduring bonds between family, food, and tradition.
---
By Caz Hildebrand and Jacob Kenedy
A visually stunning celebration of the history and culture surrounding 100 distinct shapes of Italian pasta, with recipes for the perfect sauce to accompany each. The authors examine the structural peculiarities that make various pastas unique — the spirals of fusilli that hold a ragu so well, the tensile strength of linguine, which makes it perfect for twirling. You'll never look at a plate of macaroni the same way again after reading this ingeniously designed black-and-white marvel.
---
By Oretta Zanini De Vita (translated by Maureen B. Fant)
The chronology, geography, and family lore of pasta is collected here by an Italian food authority whose research into the many forms that the blessed foodstuff takes — from agnolotti and alfabeto to farfalle and fazzoletti; garganelli and gemelli to vermicellini and ziti — combines storytelling, scholarship, and mouthwatering recipes. It's a delicious compendium that will have you impressing dinner guests with your knowledge and craft.
---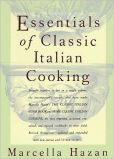 Essentials of Classic Italian Cooking
By Marcella Hazan

Essentials is the indispensable collection of Italian cuisine authority Marcella Hazan's recipes, presented not "in pursuit of novelty, but of taste." Covering all culinary bases, from authentic risotto to fresh spaghetti, Hazan offers abiding lessons in crafting the perfect Italian meal, plus an innovative jewel: choosing the perfect pasta-and-sauce pairings.
---
By Bill Buford
An accomplished writer and editor puts down his pen and picks up a knife in the kitchen at Mario Batali's acclaimed NYC restaurant Babbo. After that first trial by fire, Buford travels to Italy to study the art of pasta-making under the old masters. Funny, fascinating, and — of course — elegantly composed, his adventures in the world of fine dining are a delight to savor.