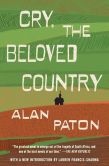 On this day in 1903, novelist and reformer Alan Paton was born in the KwaZulu-Natal region of South Africa. Paton was the principal of Diepkloof Reformatory in Johannesburg for twelve years; he wrote Cry, the Beloved Country (1947), his first and most famous novel — apart from a college poem and two papers on penal reform, his first published writing — while he was away from home, touring reform schools and prisons in Europe and North America.
Paton's autobiography tells of sitting in a lonely hotel room in Norway and, without knowing his direction or his theme, writing what would be the novel's first nostalgic, sentences: "There is a lovely road that runs from Ixopo into the hills. These hills are grass-covered and rolling, and they are lovely beyond any singing of it…." He stayed "under the influence of this powerful emotion" for another three months, writing at night in a series of other hotels and finishing the manuscript in San Francisco on Christmas Eve. The first two people who read the manuscript, friends in San Francisco, wept over it. They helped him type and send chapters to fifteen publishers, nine of whom responded enthusiastically within two weeks. Before doing so, the friends pointed out that the book had no title; the three of them chose one by secret ballot, each writing the same thing on their slip of paper, the opening words from the book's most famous passage:
Cry, the beloved country, for the unborn child that is the inheritor of our fear. Let him not love the earth too deeply. Let him not laugh too gladly when the water runs through his fingers, nor stand too silent when the setting sun makes red the veldt with fire. Let him not be too moved when the birds of his land are singing, nor give too much of his heart to a mountain or a valley. For fear will rob him of all if he gives too much.
The success of Cry, the Beloved Country persuaded Paton to resign his post at the reformatory and become a writer, but by this time South Africa was heading rapidly in a direction entirely opposite to the spirit of his novel. When Paton arrived at his retirement ceremony, he discovered to his horror that the authorities at the reformatory, swept up in apartheid mania, had arranged a totally segregated reception.
---
Daybook is contributed by Steve King, who teaches in the English Department of Memorial University in St. John's, Newfoundland. His literary daybook began as a radio series syndicated nationally in Canada. He can be found online at todayinliterature.com.