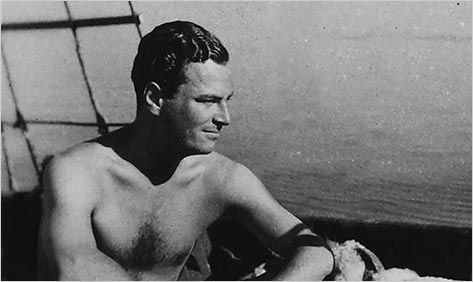 Of all the valiant deeds, curious events, and exotic circumstances recounted in Artemis Cooper's Patrick Leigh Fermor: An Adventure, one aspect of Fermor's life fills me with particular wonder. It is not Fermor's kidnapping of the German commander in occupied Crete in 1944, his careless, accidental killing of a friend, or his walk across Europe in the 1930s. These actions are arresting enough, but it is our hero's gift for extracting boundless hospitality from well-born, well-housed strangers wherever he went that I find phenomenal. How did he do it? It's not as if he were well connected by birth or went to precisely the right schools — he was, in fact, expelled three times from those he did attend, and he didn't go to university at all. That ineffable thing, a magnetic personality — an amalgam of good looks, a knack for camaraderie, and genuine curiosity — seems to have been key, though his winning ways were augmented by a facility with languages, a gift for song, and, it must be said, a certain shamelessness. It was the young Fermor's talent for living off the landed that launched him into the life of the traveler and thence to travel writing, the calling for which he was unquestionably born.

Patrick Leigh Fermor's father, himself the son of a clerk, was a geologist in the Indian Civil Service, while young Fermor's mother was the daughter of a prosperous slate and stone merchant in India. Fermor's sense of entitlement seems to have come from her, a woman who claimed (without proof) to have sprung from a line of Irish Counts of the Holy Roman Empire and who had a tendency to add distinguished-sounding names to her own. Considering herself a cut above her husband and, indeed, above her own true station in life, she craved festivity and society (though not necessarily that of her children) and had theatrical appetites and literary ambitions. She and Fermor's father eventually lived apart. But what was bad news in the mother translated into infectious high spirits, a quenchless appetite for adventure, and literary élan in the son.

In 1933, at eighteen years of age and not knowing quite what to do with himself or his future, Fermor seized upon the idea of walking across Europe. His father agreed to allow him £4 a month for the purpose, and so off the young man went on a journey that took from December 1933 to January 1935, from the Hook of Holland to Constantinople (as he persisted in calling Istanbul out of fealty to the past). From there he went on to Greece, acquainting himself with a country he came to love above all others and which, soon enough, served as the theater of his war. It later became a source of sorrow during the Cyprus crisis and, later still, his home for some years. The trip had a further momentousness in that, as he traveled, he became a witness to the first foul bloom of Nazi ascendency in Germany. As it was not until 1977 that Fermor's account of this part of his journey, A Time of Gifts, was published, that book may have profited a little from hindsight. Still, it is clear from Cooper's considered description of Fermor's encounters that the manifestations of the Nazi spirit, the vulgar posturing, bellicosity, Hitler worship, and anti-Semitism, were repellent enough to him at the time even without knowing where they would ultimately lead.

After the great cross-continental trek, Fermor kept on the move. He became tangentially involved in a minor Greek revolution; spent time in monasteries, for which he had a strange attraction; and fell in love with a woman sixteen years his senior, traveling with her and living for some time at her family estate in what was then called Rumania. He looked to translation work as a source of income — for the future, that is. For the present he seems mostly to have lived as a guest. As such, he was, as Cooper puts it, "perhaps more inconvenient than some. He burnt holes in the sheets with his cigarettes, drank a lot, and the clothes and books he borrowed were left lying about." Most people, Cooper tells us, liked him; some couldn't stand him. One such, many years later, was Somerset Maugham, who called him "that middle-class gigolo for upper-class women."

Fermor finally returned to England in 1937, mistress in tow, and devoted his energies, or so it seems, to knitting himself into a glittering fabric of social connections: European royalty, British blue-bloods, Hon.s, Bart.s, and Sitwells. In fact, if there is anything that made me weary in this book, it is the parade of names and nonstop upper-class romps, no doubt the result of the author herself being, to spell it out, the Hon. Alice Clare Antonia Opportune Beevor, granddaughter of Lady Diana Cooper, who has already written about these characters in her earlier works. Here is what I am talking about: "One spur to completing [Fermor's] work was the prospect of joining Diana Cooper, who had been lent the Eros II: Stavros Niarchos's second-best yacht, that is, with a crew of eight to take Diana and her friends anywhere she wanted to go. For this Diana had to thank her friend Pamela Churchill, who was having an affair with Niarchos (after her break-up with Elie de Rothschild and before her marriage to Leland Hayward.)" This, for me, does not have quite the grab of swimming the Hellespont or translating P. G. Wodehouse's "The Great Sermon Handicap" into Greek, matters that made for considerably more enjoyable reading.

Fermor eventually returned to Greece and Rumania, but, in late 1939, Britain's declaration of war brought him back to England, where he eventually found a place in the Intelligence Corps. At this point the book becomes wonderfully exciting as a most resourceful Fermor ends up in Greece, working with the Resistance. His exploits culminated in the famous abduction of General Kreipe, the details of which I shall leave for you to enjoy on your own.

After the war, Fermor met his future wife, Joan, who supported him financially and whom he loved dearly; though, in what used to be considered upper-class British tradition, neither he nor she expected or practiced constancy. Fermor's ceaseless and wide-ranging amours give rise to the book's funniest passage, a letter from an exuberant Fermor to a woman who accused him of bestowing a colony of crabs upon her — a passage I find I cannot bring myself to quote, masterpiece of comic prose though it is.

Letters and journals aside, writing was a laborious process for Fermor. As Cooper shows, he struggled painfully to finish his books, though there is no sense at all of that strain in the finished works. They are written with brio, filled with wit, color, and scenes evoked as from a dream — Bavarians gluttonizing at the groaning board, Caribbean islanders practicing voodoo, the aftermath of volcanic eruptions. Fermor's pen is a magician's wand. This, however, leaves his biographer in a bit of a fix: When it comes to describing her subject's adventures and travels, she cannot better the master. But if Fermor's style is intoxicating, as ingeniously suggestive and steeped in historical vision as it is descriptive, his reports of his travels are not what one might call impeccably factual. He could embellish them with hindsight, combine real people into one hybrid character, and trim the facts to fit a good (or self-serving) story. Cooper sets the record straight in numerous instances, making her book, in my opinion, a necessary and cheerful companion to Fermor's works, whose veracity I have, at times, doubted.