"I even made a girl I'd been going out with for six years walk to her car by herself at two o'clock in the morning because I was in the middle of an all-night horror-thon at the Cinerama Dome." Patton Oswalt's new addiction memoir isn't centered on booze or heroin — his drug of choice was old movies. Silver Screen Fiend is focused on the late 1990s, when Oswalt moved to Los Angeles, toiled as a writer on Mad TV, became part of an exploding alternative-comedy scene at Largo, and spent every possible moment watching double bills of film classics at the New Beverly Cinema repertory theater. The best story: absorbed in Citizen Kane only to find out that there's a guy talking back to the screen, Oswalt discovered that guy was Lawrence Tierney, the tougher-than-leather character actor. "I ain't never seen this cocksucker," Tierney declared. "'S'not half bad."
Oswalt, one of the nation's greatest stand-up comedians, has also done movie and TV, ranging from the lead rat in Pixar's Ratatouille to stalwart sidekick work on The King of Queens. Silver Screen Fiend is his second book after Zombie Spaceship Wasteland, his 2011 bestseller about his childhood. We caught up with Oswalt on a recent Thursday morning in Los Angeles.  —Gavin Edwards
The Barnes & Noble Review: What was it about this part of your life that made you want to write this book?
Patton Oswalt: Being married and being a dad, I wanted to look back on a phase of my career that would be totally alien to me now. It's like I'm visiting a version of myself, but there's not a single molecule left of that person, based on who I am now. The person who was avoiding relationships, avoiding fatherhood, and avoiding expanding his social world so that he could expand his inner aesthetic world, and thinking that was the end-all. And being so wrong about it.
BNR: Was it hard to dredge this stuff up?
PO: I thought it was hilarious — like examining an alien species that looked just like me. The only parts that were painful were thinking, Wow, what if I had stayed on this road? What if I was still one of those people haunting every rep theater he could find, and I didn't have my daughter or my wife or all these new friends? What if I just stayed absorbing, rather than trying to make steps towards creating and being involved?
BNR: Have you read many addiction memoirs?
PO: I know the basic rhythm of them, but I actually have not read many. I wanted to go into mine with a clean voice.
BNR: Would you like the younger version of yourself if you met?
PO: The older version would be more patient with the younger version. I think the younger version, he wouldn't be mean to the older version, but would just be dismissive: Oh, he's living a life that I don't care about. He was very, very compartmentalized.
BNR: Are there landscapes in film that seem more real to you than things you had in your own life?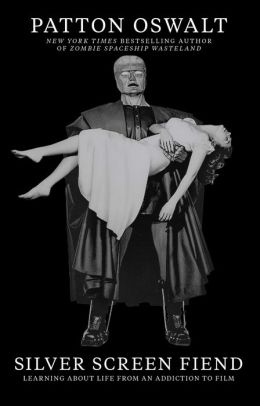 PO: When I was writing the book, the things that happened in my real life stayed with me way harder than anything that I ever saw in a film. So that's a good sign — that means I came out of this thing okay.
BNR: This is probably the litmus test of where you are now as a film fan: how excited are you for the next Star Wars movie?
PO: I'm cautiously optimistic. I went into the prequels with very high hopes, and of course, that experience made me a very cautious man.
BNR: What are your writing routines?
PO: I don't write full-time, so I can't really say that I have a routine. When I'm writing a book, it's nice, because I drop my daughter off at school around 8:30, and then she comes home around 3:30. So I make the most of it. And I've been writing long enough to know that you don't have to sit there for nine hours staring at the screen. You're going to get one or two hours of solid writing a day, five or six pages — that's what works for me. And I look twice at every acting opportunity that comes my way, or every stand-up opportunity. Because I know that as much as I delude myself, I don't really do any writing when I'm on the road or when I'm in my trailer on the set.
BNR: Did writing this book spur the desire to see any of these films again?
PO: A lot of them left strong enough impressions on me that I felt like I could write about them. I rewatched a couple of them, just so I could remember the kind of person who must have seen them at the time. For the most part, I'm getting more into rewatching movies that meant something to me when I was younger.
BNR: Is that because you can now share them with your daughter?
PO: Well, she's five, so she's too young now for certain movies. I'm going to show her E.T. next week; I think she might be ready for that. She likes some of the Miyazaki films, a lot of the Pixar stuff.
BNR: E.T.'s heavy at the end — be ready for that.
PO: Oh, no. E.T.'s heavy throughout.
BNR: Fair point. Has she seen Ratatouille?
PO: She likes it. The beginning part was a little scary, with the rain and the separating from the family. But then she really, really liked that the mean guy becomes good at the end.
BNR: Can she get her head around the separation between you in person and on screen?
PO: She gets it now. And I'm in enough TV shows that she goes, Oh, that's what dad does — he goes on TV and pretends.
BNR: Are there other chapters of your life you'd like to address in books?
PO: I'm not sure yet — maybe something about my dad's experiences in Vietnam.
BNR: I see you mentioned Harlan Ellison as part of the New Beverly crowd — do you have a good story about him?
PO: There's not enough Harlan Ellison stories? I hang out with him a lot; he's really nice. At one point, he said to me, "I'd like a lot less homage and a lot more moolah."
BNR: There's a moment you allude to in the book but don't really describe, when you take the five film reference books that had been part of your ritualistic film addiction and donate them to Goodwill. Can you tell me about that?
PO: I have a lot of books, so I was just making space. I thought, you know what, I've gotten what I need out of these books. I had read them cover to cover, back and forth, over and over again. I'm not going to go through them, checking stuff anymore. I might purchase the Danny Peary books again one day, just because they're so well written.
BNR: The final section of your book is a fictional film festival — a month of movies that didn't exist but should have. Tell me how that emerged.
PO: Well, it started as a blog post that I wrote for Sherman Torgan [proprietor of the New Beverly Cinema] when he died. What movies did he always want to see that didn't exist? And I remembered what Neil Gaiman did in The Sandman [creating a library full of unwritten books in the Dreaming] and also what Borges constantly did in his fantastical libraries.
BNR: They're also the shadows of the movies you weren't making while you were watching movies instead.
PO: Wow, yeah, that could have been it too. I'm sure subconsciously that was part of it.
BNR: Do the rhythms of stand-up affect what you're doing when you're writing on the page? Are you conscious of where a chapter's punchline might be?
PO: They don't, because I'm not writing stand-up, I'm writing a book. I'm not writing a whole chapter to get to one punchline! Oh my God, those are completely separate things! I'm writing a book because I'm telling a story. They're totally, totally different. So I don't know why stand-up rhythms would have anything to do with writing a book.
BNR: What surprised you most as you were doing this book?
PO: I think how tickled I was at the kind of person I was back then. I thought there'd be some real torment and self-loathing, but there were dopey places I went to growing up, and that's all part of me. And it's better to wink at that kind of stuff.
BNR: Is there part of your brain that's still mentally checking off movies?
PO: Yeah. That'll always be there, a list of movies that I haven't seen yet that I want to see. I'm glad — you want to always have stuff to look forward to.