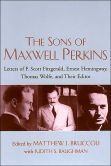 Maxwell Perkins died on this day in 1947. His decades at Charles Scribner's Sons have been chronicled in a handful of letter collections, the title of The Sons of Maxwell Perkins (2004) coming from F. Scott Fitzgerald's letter of April 23, 1938: "What a time you've had with your sons, Max—Ernest gone to Spain, me gone to Hollywood, Tom Wolfe reverting to an artistic hill-billy." Wolfe's letters to Perkins are often very long, and they make clear that the author was looking for more than a red-pencil relationship: "Young men sometimes believe in the existence of heroic figures, and wiser than themselves, to whom they can turn for an answer to all their vexation and grief.… You are for me such a figure: you are one of the rocks to which my life is anchored." (Dec. 24, 1929)
Hemingway's letters to Perkins are frank and friendly, but as he was on his path to being Papa himself, he was more likely to give rather than take advice; the following is excerpted from an April 4, 1932 letter rejecting some cuts to Death in the Afternoon:
Listen, you have troubles, and they are real troubles, and Scott has bad troubles, and I have had some troubles and if Mr. Thomas Wolfe lives long enough, great writer though he should be, he will have plenty of troubles too but I get my work done in spite of all troubles and when it is done to hell with it being bitched by somebody else's troubles. The first and final thing you have to do in this world is last in it and not be smashed by it and your work the same way. (April 4, 1932)
Fitzgerald dared to take on the father role himself with Wolfe, writing him friendly letters of advice about being a more conscious, less exuberant artist, a selective Flaubert rather than a long-winded Zola. To these, Wolfe would reply with long, exuberant, no-thank-yous:
I want to be a better artist. I want to be a more selective artist. I want to be a more restrained artist. I want to use such talent as I have, control such forces as I may own, direct such energy I may use more cleanly, more surely and to a better purpose. But Flaubert me no Flauberts, Bovary me no Bovarys, Zola me no Zolas. And exuberance me no exuberances. (July 26, 1937)
---
Daybook is contributed by Steve King, who teaches in the English Department of Memorial University in St. John's, Newfoundland. His literary daybook began as a radio series syndicated nationally in Canada. He can be found online at todayinliterature.com.
---