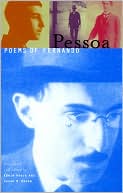 Fernando Pessoa was born on this day in 1888. Though he published very little in his short lifetime, Portugal's most important twentieth-century poet is such an essential presence on the postmodern syllabus that, says John Hollander, "If Fernando Pessoa had never existed, Jorge Luis Borges might have had to invent him." Even without Borges, Pessoa exists in multiple reincarnations: after his death in 1935, over 25,000 poems, letters, and other bits were found in a trunk, written by Pessoa and his handful of "heteronyms" — sustained fictitious personas, each with a distinct biography and writing style.

One of the heteronyms went on to become the title character of The Year of the Death of Ricardo Reis, a novel by Portugal's Nobel-winning José Saramago in which Reis, when he is not speaking to the spirit of Pessoa, spends much of his time reading a fictional novel by Borges's fictional author Herbert Quain — that fictional novel, to ice the meta-level cake, titled The God of Labyrinth.


In a similar spirit is Pessoa's "factless autobiography" — written by his semi-heteronym Bernard Soames and introduced by Pessoa himself — titled The Book of Disquiet. This collection of fragmented observations is regarded as our best glimpse of the real Pessoa, the man of reclusive, legendary oddness sometimes glimpsed in the streets and cafés of Lisbon. Keeping in mind Pessoa's one overriding caution — "Everything stated or expressed by man is a note in the margin of a completely erased text" — here is a sampling of the disquietude, begun as a reflection upon having heard that an old friend was to have an operation:
My nostalgia for the normal man I never was enters the substance of my being. But it's still that and only that which I feel. I don't actually feel sorry for the friend who is going to be operated on. I don't actually feel sorry for all the people who are going to be operated on, for all those who suffer and grieve in this world. I only feel sorry for not knowing how to be someone who feels sorry. And a moment later I'm thinking about something else, inevitably, out of an impulse I can't identify. And then, as if I were delirious, what I didn't come to feel was mixed with what I couldn't be, a murmur of trees, a sound of water running to ponds, a nonexistent farm….
---
Daybook is contributed by Steve King, who teaches in the English Department of Memorial University in St. John's, Newfoundland. His literary daybook began as a radio series syndicated nationally in Canada. He can be found online at todayinliterature.com.