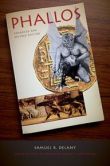 The first edition of Samuel Delany's novella Phallos was published by a small press in 2004. Nowadays, it's a sought-after rarity among Delany fanatics. Although I own all of Delany's other books, I have never lucked into a copy myself. But now, thanks to the editorial acumen and good taste of Wesleyan University Press (buttressed by several accessibly scholarly essays attached), an affordable new edition is available. Moreover, the text is enhanced and expanded by one-third. Delany fans, rejoice!

Perhaps the quickest way initially to convey a little of the ambiance and accomplishment of Phallos is to employ the time-honored reviewer's technique known as Unlikely Rhetorical Mashup. So:

Phallos is a philosophical adventure tale starring Conan the Barbarian as penned by Vladimir Nabokov. It's the kind of story James Joyce would have solicited if he'd been helming Weird Tales, circa 1929. If Publishers Weekly announced tomorrow that Robert Graves and Lawrence Durrell were collaborating on a blockbuster fantasy trilogy, you might expect Phallos to be Volume One. And if Cinecittà Studio announced that they had discovered in their vaults a never-released sequel to Federico Fellini's Satyricon, Phallos would probably reliably serve as the book tie-in to the film.

Here's the setup that scaffolds this playfully serious and gravitastically whimsical metafictional construct: not a novel as one traditionally thinks of such but absolutely possessed of a novel's fascination.

A small preface tells us of the plight of a fellow named Adrian Rome, who has long been in search of a legendary piece of erotica titled Phallos. His lifelong quest has achieved only one half-satisfying success: on the Internet he's come across a long essay about Phallos. The bulk of the book we hold is that very essay. The main author of the piece is named Randy Pedarson. His pals Binky and Phyllis contribute asides in the form of footnotes and reported conversation. Randy's essay is intended as both a detailed exegesis of Phallos and his sexual, emotional and intellectual reactions to the text. Because his essay is hosted on a censor-monitored university computer, Randy is reluctant to include the more smutty parts of the novel when he quotes from it. So he will have to reconstruct the text in his own circuitous but nimble words. However, big swatches of the original are nonetheless reproduced. The whole patchwork narrative amounts to over 120 pages of enthralling play of light and shadow, presence and absence, subjectivity and objectivity, honesty and deceit.

To assess Delany's accomplishment, it's necessary to gauge both the Randy-penned framework and the scraps of Phallos itself, the cheap paperback's putative style and content, as well as the interplay between the two worlds, this third component being perhaps the most important aspect of Phallos (the book by Delany, not the mysterious novel) in the end.

The portrayal of Randy and his friends, and their interactions and back-stories, is masterfully done. Randy's voice and highly personal writing style are utterly charming and evocative of his nature and personality. He's down-to-earth, likable, but also a bit of a pedant, especially in comparison to Binky and Phyllis. After all, he is committing thousands and thousands of somewhat ego-stroking academically nuanced words to this project. But his earnest affection for the object of his disquisitions is plain as well. This unpaid project is a labor of love, the kind Phallos (1969 source) itself is concerned with. Moreover, in synopsizing the novel he reveals himself to be a natural-born storyteller. At times, his generally straightforward style transcends to that of Phallos's original, anonymous author, in elegance and grace and startlement, as if he can't help channeling the afflatus of his worshipped book.

Randy's exegesis also vividly conveys the Pynchonesque, Eco-esque existential mysteries surrounding Phallos, a motif that even extends to the cover of the Wesleyan edition: there, a book bearing the actual cover from the 2004 printing rests on a tabletop, the first appearance of Delany's text somehow standing in for the fictional 1969 Essex House edition of Phallos. Toward the very end of his essay, Randy speculates on who could have written that throwaway paperback, naming several real authors such as Tom Disch and Vin Packer. Notoriously missing from Randy's list, conspicuous by his absence, like the very MacGuffin in the original novel, is the name of Philip José Farmer, whose Essex House title A Feast Unknown appeared in 1969. Also tellingly unmentioned by Randy is a tawdry mass-market paperback from 1973 titled Tides of Lust, bearing the byline of one Samuel Delany.

But what of Phallos the 1969 novel? It proves to be a picaresque tale of the ancient world, set around the time of the emperor Hadrian. Our hero is one Neoptolomus, a hybrid fellow of large appetites. From humble beginnings, over the course of a couple of decades, he ascends to a position of wealth and comfort, while experiencing a vast variety of sexual pleasures, mainly homosexual in nature. But the strange attractor of his whole life from young adulthood, the dark star around which his exploits revolve, is the missing male member of a god's statue. Both real and unreal, the talisman triggers endless consequences and epiphanies. "A ruse, a lure, a distraction…the phallos is simply a set of multiple imitations and distractions, of markers in a plot of plottings that web together the material world, an extraordinary fiction disseminated over the land to net a host of other fictions of power…" It's a numinous Grail of sorts, and Neoptolomus's life is a carnal quest whose ultimate trophy is self-knowledge and a mastery of the ways of civilization and interpersonal etiquette. Along the path, Delany has many intriguing things to say about his favorite topics and themes: the nature of gender and race; the lineaments of desire; barbarism versus civilization; commerce versus the soul; solitude versus society; greed balanced with generosity; legend versus history. Readers familiar with Delany's Nevèrÿon books, and with his most recent novels, will discover multiple hooks cast both forward and back into his canon. Lastly, Delany's summoning of the ancient Mediterranean milieu is rich and accomplished and strange, something along the lines of what Gene Wolfe did in his Soldier of the Mist and its sequels.

The fragments of Phallos vintage 1969 embody Delany's trademark gorgeous prose, packed with sensory and sensual details and startling, colorful metaphors. Our hero's character and the dazzling portraits of his idiosyncratic contemporaries emerge whole and rounded, despite the switchback nature of the telling. As well, the surprising patterns of Neoptolomus's life, especially the revelations surrounding his early servitude, provide full resonance and narrative satisfaction.

The interplay between this tale and Randy's life adds the final thickness of effect to Phallos2013. Randy's own literary production, his instinctive devotion to this cheapjack masterpiece, shows us how art can inspire, dominate, illuminate, educate, frustrate, pander, stimulate, and enlighten. Delany's book thus itself becomes the elusive Grail-phallos, ever-present, ever-absent at the heart of the artifice.
---

Paul Di Filippo's column The Speculator appears monthly in the Barnes & Noble Review. He is the author of several acclaimed novels and story collections, including Fractal Paisleys, Little Doors, Neutrino Drag, and Fuzzy Dice.