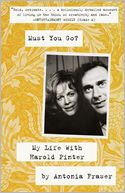 Harold Pinter's The Birthday Party, his first full-length play, opened on this day in 1958 in Cambridge, England. Despite Pinter's absurdist setting and the obscurities of his plot — two mysterious and coercive strangers arrive at Stanley's boardinghouse, celebrate his birthday, and then haul him away — the play got good initial reviews, with some comparing its "brilliant, baffling and bizarre" style to Kafka. The production did well on its short provincial tour, but when it opened in London the critics trashed it with such vehemence and confidence — "half-gibberish and lunatic ravings," "random dottiness deriving from Beckett and Ionesco" — that it closed within a week. In a 1988 interview, Pinter said that the play expressed one of his most important themes, and sounded his own character-note:
All Petey says is one of the most important lines I've ever written. As Stan is taken away, Petey says, "Stan, don't let them tell you what to do." I've lived that line all my damn life.
One famous illustration of the lifelong Pinter pugnacity dates from the same time as The Birthday Party. Pinter was having a drink by himself in a London pub when he overheard a man tell his friend that "Hitler didn't go far enough" with the Jews. When Pinter said that the statement was "a load of balls," the man asked him if he was "a filthy Yid" himself. Pinter dared him to ask the question again, the man did so, and Pinter slugged him. The two were hauled down to the police station, though this time the authorities were on Pinter's side.

In the first pages of Must You Go? (2010), her memoir of her thirty-year marriage to Pinter, Antonia Fraser recalls that the two first met following the premiere of a 1975 production of The Birthday Party. But his outspokenness had preceded him, in the form of a loud outburst at the back of the hall in which an excerpt from Fraser's biography of Mary, Queen of Scots was being dramatized:
Afterwards I enquired rather crossly what had happened. "Oh, that was Harold Pinter," I was told. "He attacked the attendant for opening the door in the middle of the recital."… Later, when I was introduced to Harold, I asked him if it had indeed been him. "Yes," he replied with satisfaction, "I do that kind of thing all the time." In similar situations in the future, I sometimes reflected wryly: 'I can't say I wasn't warned….'
---
Daybook is contributed by Steve King, who teaches in the English Department of Memorial University in St. John's, Newfoundland. His literary daybook began as a radio series syndicated nationally in Canada. He can be found online at todayinliterature.com.