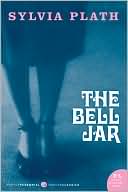 January 14: Sylvia Plath's The Bell Jar was published on this day in 1963, a month before Plath's suicide. The novel describes the fall of Esther Greenwood, a popular, prize-winning student-poet who is spending her summer in New York as a guest editor for Mademoiselle magazine. The parallels between Greenwood's life and Plath's experiences a decade earlier begin with the novel's famous opening sentence: "It was a queer, sultry summer, the summer they electrocuted the Rosenbergs, and I didn't know what I was doing in New York." This foreshadows the electric shock treatments that Esther will eventually face, and which Plath underwent after her first suicide attempt following her stay at Mademoiselle.
But premonitions of disaster are often evident in Plath's journal-writing throughout the early 1950s. The following entry from 1950, Plath now a college freshman, catalogues her fall through an "Alice-in-Wonderland fable" into "the world of 'grown-up' reality":
…* to learn snide and smutty meanings of words you once loved, like 'fairy.' * to go to college fraternity parties where a boy buries his face in your neck or tries to rape you if he isn't satisfied with burying his fingers in the flesh of your breast. * to learn that there are a million girls who are beautiful and each day that more leave behind the awkward teenage stage, as you once did, and embark on the adventure of being loved and petted. * to be aware that you must compete somehow, and yet that wealth and beauty are not in your realm…. * to learn that you might have been more of an 'artist' than you are if you had been born into a family of wealthy intellectuals. * to learn that you can never learn anything valid for truth, only momentary, transitory sayings that apply to you in your moment, your locality, and your present state of mind. * to learn that love can never come true, because the people you admire like Perry are unattainable since they want someone like P.K. * to learn that you only want them because you can't have them. * to learn that you can't be a revolutionary… * to know that there is a mental hospital on the hill in back of the college…
---
Daybook is contributed by Steve King, who teaches in the English Department of Memorial University in St. John's, Newfoundland. His literary daybook began as a radio series syndicated nationally in Canada. He can be found online at todayinliterature.com.