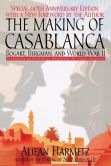 There are better movies than Casablanca, but no other movie better demonstrates America's mythological vision of itself — tough on the outside and moral within, capable of sacrifice and romance without sacrificing the individualism that conquered a continent, sticking its neck out for everybody when circumstances demand heroism. No other movie has so reflected both the moment when it was made — the early days of World War II — and the psychological needs of audiences decades later.

–Aljean Harmetz in The Making of Casablanca (originally Round Up the Usual Suspects)
Casablanca had its world premiere on this day in 1942. If the movie speaks to "the psychological needs of audiences," Woody Allen must have had a front-row seat; the following is from the closing scenes of Play It Again, Sam:
Allan: If that plane leaves the ground, and you're not on it with him, you'll regret it — maybe not today, maybe not tomorrow, but soon, and for the rest of your life.
Linda: That's beautiful!
Allan: It's from Casablanca; I waited my whole life to say it….
---
Daybook is contributed by Steve King, who teaches in the English Department of Memorial University in St. John's, Newfoundland. His literary daybook began as a radio series syndicated nationally in Canada. He can be found online at todayinliterature.com.