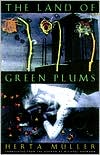 In my reading life, I seldom encounter contemporary novels that impress me as natty candidates for a high school curriculum. Hang it on to the fact that I'm partial to both complex, stylistically-challenging books which I'd be reluctant to inflict on overly-scheduled, poorly-rested young people, and to narratives packed with bad role models e.g. the Philip Roth stand-ins of the world who are ill-equipped to put parents at ease.
Knowing next to nothing about the recipient of this years Nobel Prize in Literature, Herta Müller, I was equally ready to be impressed or disappointed by her work. Yet after finishing her autobiographical novel, The Land of Green Plums, I'm persuaded that along with Animal Farm, Müller's work offers an especially accessible gateway to understanding the hardships of living under a totalitarian regime.
The story unfolds mostly from the perspective of an unnamed narrator who, after graduating from university, takes a white-collar job at a factory where she translates instructions for machines imported from German-speaking countries into Romanian. Along with a few of her school chums, she becomes the target of ongoing surveillance by members of the Romanian state security apparatus (the Securitate) who are suspicious of their patriotic diffidence. The novel tracks how these external pressures fortify and spoil the relations between the friends: "We could see whose fear was where, because we had known each other so long. Often we couldn't stand each other, because we were all we had. We had no choice but to lash out at each other."
In spite of its serious subject matter, The Land of Green Plums is a breezy read. Its sentences are concise and visual, and its lessons turn away from the parochial:
I had three German lessons with the fur mans children. The children wouldn't repeat: The sand is heavy. Only: The sand is nice. They wouldn't say: The burning sun. Only: The shining sun.
For those looking to stay up on what's hot in international literature, here is a bit of homework that is worthwhile.
-CHRISTOPHER BYRD