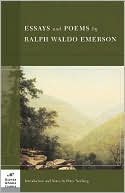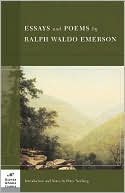 Ralph Waldo Emerson's first book of Essays was published on this day in 1841. "Self-Reliance," the second essay in the volume, contains some of Emerson's most ringing and influential declarations: "Whoso would be a man must be a nonconformist"; "Trust thyself: every heart vibrates to that iron string"; "These roses under my window make no reference to former roses or to better ones; they are for what they are; they exist with God to-day." Below, a passage in support of the general theme that each American must look to his or her own path and bootstraps:
There is a time in every man's education when he arrives at the conviction that envy is ignorance; that imitation is suicide; that he must take himself for better, for worse, as his portion; that though the wide universe is full of good, no kernel of nourishing corn can come to him but through his toil bestowed on that plot of ground which is given to him to till.
Brook Farm, one of the most famous adventures in Transcendental self-reliance, began later in the spring of 1841, and that same year Bronson Alcott began plans for his Fruitlands community. "On the eve of the Brook Farm experiment," says Sterling F. Delano in Brook Farm: The Dark Side of Utopia, "Ralph Waldo Emerson remarked of his fellow Americans that 'we are all a little wild here with numberless projects of social reform. Not a reading man but has the draft of a new community in his waistcoat pocket.'"

Brook Farm lasted six years, Alcott's Fruitlands only seven months. In this passage from "Trancendental Wild Oats," her satiric account of life at her father's community, Lousia May Alcott suggests that one of the problems was a confusion over self- and other-reliance:
"Each member is to perform the work for which experience, strength, and taste best fit him," continued Dictator Lion. "Thus drudgery and disorder will be avoided and harmony prevail. We shall rise at dawn, begin the day by bathing, followed by music, and then a chaste repast of fruit and bread. Each one finds congenial occupation till the meridian meal…."

"What part of the work do you incline to yourself!" asked Sister Hope, with a humorous glimmer in her keen eyes.
---
Daybook is contributed by Steve King, who teaches in the English Department of Memorial University in St. John's, Newfoundland. His literary daybook began as a radio series syndicated nationally in Canada. He can be found online at todayinliterature.com.