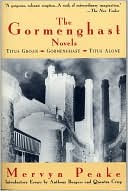 November 17:Mervyn Peake died on this day in 1968, aged fifty-seven. Peake's career as awriter and artist was prolific, varied and, during his lifetime at least, tooeccentric for mainstream popularity. Since the 1980s he has been rediscovered,however, and in 2008, the London Timesnamed Peake on its list of "the 50 greatest British writers since 1945."Perhaps, as recent biographer G. Peter Winnington says, Peake "remainslargely unclassified and unclassifiable," but even that seems animprovement: in 1967, a year before Peake's death, one reviewer who had praisedhis most recent book of poetry was accused by a prominent London daily ofhaving made the author up.
Apart from many recent, international editions of Peake'sbooks, there have been stage, radio, and musical adaptations, plus in 2000 alavish and highly-praised BBC TV miniseries, this reviewed in the Guardian as "quite different fromanything else on TV. Or on earth." The miniseries is based on Titus Groan and Gormenghast, the first two books of the Gormenghast trilogy, first published in 1946 and 1950. Peake's fanspoint out that both Tolkien's The Lord ofthe Rings and Orwell's 1984 werepublished in 1949, and wonder why Tolkien's and Orwell's imaginary worldsbecame so enshrined while Peake's became so neglected. Perhaps Peake himselfwas not surprised, given that the opening scene of Titus Groan describes Rottcodd, the ancient curator of the Hall ofBright Carvings, going sleepily about his only business: to flick dust from theobjects of beauty in his keep—Bright Carvings which briefly impassioned themultitude and the Earl of Groan, but which are now ignored.
Peake's last decade was a horror of debilitation andincreasing dementia, caused by Parkinson's. He "was buried at the age of57 looking near 90," says his son, Sebastian, "leaving behind himover 10,000 drawings, 200 oil paintings, books, poems, short stories,illustrations, plays, film scripts, stage designs and ideas…." By allaccounts a free and irrepressible spirit, his guiding principle seems to havecome from one of his poems, its first line now on his gravestone:
To live at all is miracle enough.

The doom of nations is another thing.

Here in my hammering blood-pulse is my proof.

Let every painter paint and poet sing

And all the sons of music ply their trade;

Machines are weaker than a beetle's wing….
---
Daybook is contributed by Steve King, who teaches in the English Department of Memorial University in St. John's, Newfoundland. His literary daybook began as a radio series syndicated nationally in Canada. He can be found online at todayinliterature.com.