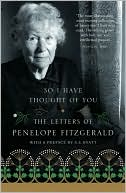 Biographer and novelist Penelope Fitzgerald was born on this day in 1916. Ranked twenty-third on the London Times 2008 list of "Britain's Fifty Greatest Writers Since WWII," Fitzgerald didn't begin her twenty-year writing career until age fifty-eight. Her third novel, Offshore (1979), won the Booker Prize, and many were astonished when her last novel, The Blue Flower (1995), didn't. The following is excerpted from Howards End Is on the Landing, a book on the reading life by British novelist Susan Hill, who was one of the Booker judges in 1995 but was unable to talk any sense into her fellow panelists:
They simply could not see it. They saw something pleasing, short. Slight. That was the word I heard again and again. "Slight." I think I sweated blood, but to no purpose.

"Slight." Slight? SLIGHT?

The Blue Flower is a masterpiece. It is the most extraordinary book, and half of it is invisible writing, so much is there that is not there, so much lies below the surface…. During the celebrations for the fortieth anniversary of the Booker Prize [in 2008], time and again it was mentioned with bewilderment as "the one that got away."
Fitzgerald's Collected Letters (2008) have also won high praise. The excerpt below is from a Guardian review by Julian Barnes that pays tribute to "the jam-making grandmother" who became the best novelist of her generation:
Novels are like cities: some are organised and laid out with the colour-coded clarity of public transport maps, with each chapter marking a progress from one station to the next, until all the characters have been successfully carried to their thematic terminus. Others, the subtler, wiser ones, offer no such immediately readable route-maps. Instead of a journey through the city, they throw you into the city itself, and life itself: you are expected to find your own way. And their structure and purpose may not be immediately apparent, being based on the tacit network of "loans, debts, repayments and foreclosures" that makes up human relationships.… Such novels are not difficult to read, since they are so filled with detail and incident and the movement of life, but they are sometimes difficult to work out. This is because the absentee author has the confidence to presume that the reader might be as subtle and intelligent as she is. Penelope Fitzgerald's novels are pre-eminent examples of this kind.
---
Daybook is contributed by Steve King, who teaches in the English Department of Memorial University in St. John's, Newfoundland. His literary daybook began as a radio series syndicated nationally in Canada. He can be found online at todayinliterature.com.