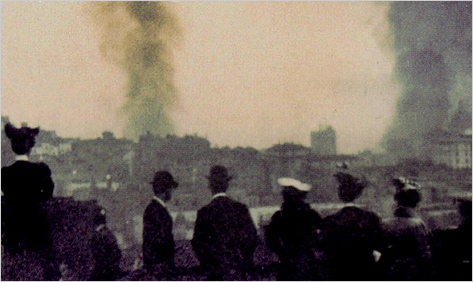 In her hefty meditation on literary fiction, Thirteen Ways of Looking at the Novel, Jane Smiley asserts, "If I have to pick a single institution that the novel has changed, and whose changes have in turn fundamentally changed the way people live, I would pick marriage." Citing as evidence several 19th-century masterpieces that feature the ever-fertile themes of unhappy marriages and "the morality of personal relationships"– including Middlemarch, Anna Karenina, Jane Eyre, and Madame Bovary — she adds that "by enlisting readers in lengthy dramas of incompatibility, novelists subtly promoted the idea that bad marriages were not simply facts of life and fate."
Smiley's thirteenth book of fiction, Private Life, is a "lengthy drama of incompatibility" that not-so-subtly promotes the idea that marriage is often a raw deal for women, rendering self-definition challenging, if not impossible. Spanning nearly 60 years, from 1883 through 1942, it is a portrait of the sort of conjugal misery that results not when you've tied the knot with an abusive drunkard or a philandering Lothario, but when you realize you've hitched yourself to the wrong star — in this case, an eccentric astronomer who flames out early by spinning off into a galaxy of wacko ideas. By living her life as if she were a mere spectator rather than an active participant, Smiley's passive, emotionally paralyzed protagonist, Margaret, is doomed to revolve unhappily in her husband's orbit.
Private Life could hardly be more different from Smiley's last novel, Ten Days in the Hills, a raunchy orgy of talk and sex set in the Hollywood Hills, based loosely on Boccaccio's Decameron. If Ten Days features passionate political and private engagement and a profligacy that leaves nothing unexpressed, Private Life is all about detachment, repression, and frustration. It's a dreary read — but there's still much of interest here.
Not surprisingly, this is by no means the first time that thrice-divorced Smiley has focused on a troubled marriage or voiced doubts about the institution as a whole. In her beautifully nuanced early novellas, The Age of Grief, Ordinary Love, and Good Will — still, along with her Pulitzer Prize-winning novel, A Thousand Acres, my favorites among her books — she explored the vagaries and complexity of marital love and family life. Although featuring contemporary settings, the novellas share with Private Life the theme that matrimony is essentially a private affair, unknowable from the outside (and often puzzling enough from the inside, as well). But Private Life makes the further case that how one conducts oneself in even this most intimate and private of relationships can have significant moral consequences in the public domain.
Margaret's life is a tale of the repercussions of early loss never fully processed: before she was five, she witnessed a public hanging — a spectacle so upsetting she repressed it, contributing to her lifelong emotional ambivalence. By the time she was eight, she'd lost both brothers and her father, after which her plucky mother returned with her three young daughters to their grandfather's Missouri farm.
There's something about bookish Margaret that puts off potential suitors. Already considered an old maid at 27, she feels herself propelled into wedlock with an odd, awkward scientist, Captain Andrew Jackson Jefferson Early, "as if accumulating experiences were precipitating her toward an already decided future." Her 38-year-old husband, brainy but "not beloved," has recently left the University of Chicago under a cloud. The newlyweds move out west to a naval shipyard off the northern California coast, where Captain Early's job is a glorified time-keeper. During their long, "relentless" and childless union, he obsessively writes and self-publishes book after ridiculed book debunking Einstein and elaborating his own eccentric (and tedious!) theories of the universe. Occasionally, his investigations take a more practical and alarmist bent — correctly predicting the 1918 influenza epidemic, and falsely implicating Margaret's Japanese friends in a spy ring after Pearl Harbor, with terrible consequences. Enlisted as his involuntary typist and chauffeur, Margaret bitterly comes to see Andrew as a fool.
Unfortunately, the most intriguing characters in Private Life don't hang around for long. Andrew's shrewd mother, "an invigorating presence," is dispatched disappointingly early. Smiley channels all the excitement and courage missing from Margaret's life into an unconventional sister-in-law who, as a globetrotting journalist, makes cameo appearances that underscore Margaret's placidity.
Smiley's novels differ from her early novellas not just in length, but in historical scope. In her chapter on "The Novel and History" in Thirteen Ways, Smiley writes, "Touches of history, biography, essay and polemic are marks of the realistic novel, the ways in which the novelist introduces gravity into his story." Indeed, a quick survey of Smiley's novels shows that most are anchored in the moral issues of a specific time and place. In The All-True Travels and Adventures of Lidie Newton, Smiley's answer to Huckleberry Finn, she presents a touching portrait of marital love against the backdrop of mid-19th-century pioneers crusading against slavery in divided Missouri. A Thousand Acres, Smiley's homage to King Lear, addresses the plight of farmers in 1980 Iowa. The current war in Iraq is a central concern of Ten Days in the Hills.
Private Life encompasses a period of vast social change and touches obliquely on an almost ridiculous number of historical events: strains between former Union and Rebel sympathizers in post-Civil War Missouri; the Louisiana Purchase Exposition in St. Louis; the San Francisco earthquake and fire of 1906; World War I; the influenza epidemic of 1918; Pearl Harbor; the internment of Japanese-Americans; and the outbreak of WWII. The historical backdrops of Smiley's earlier novels have felt integral to her themes, but here, only the internment of Japanese-Americans is intricately connected to Margaret's private tragedy. The other public cataclysms scroll by like crudely painted sets behind the play Margaret feels her life to be. The result is not just a protagonist cut off from her own life — as Smiley intended — but a narrative whose relationship with its readers feels similarly unfulfilling.