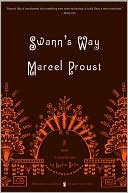 Marcel Proust was born on this day in 1871 in the north-central French town of Illiers-Combray. The town was originally named Illiers, but as Proust's In Search of Lost Time called it Combray, it officially renamed itself in order to pay homage, or just capitalize. It has become a pilgrimage for Proustians, who can prepare for their literary tour by stocking up at the patisserie which advertises itself as "The House Where Aunt Leonie Used To Buy Her Madeleines," or dine afterwards at restaurants offering Proust's celestial asparagus:
…my greatest pleasure was the asparagus, bathed in ultramarine and pink and whose spears, delicately brushed in mauve and azure, fade imperceptibly to the base of the stalk — still soiled with the earth of their bed — through iridescences that are not of this world. It seemed to me that these celestial nuances betrayed the delicious creatures that had amused themselves by becoming vegetables and which, through the disguise of their firm, edible flesh, gave a glimpse in these dawn-born colors, these rainbow sketches, this extinction of blue evenings, of the precious essence that I would still recognize when, all night following a dinner where I had eaten them, they played in their crude, poetic farces, like one of Shakespeare's fairies, at changing my chamberpot into a bottle of perfume.
The last chapter of How Proust Can Change Your Life, Alain de Botton's 1997 philosophical self-help book, goes against type. Titled "How to Put Books Down," the chapter advises us not to visit Illiers-Combray and not to idolize Proust; better to look with Proustian intensity upon our own world, "for desserts that Proust never tasted, for dresses he never described, for nuances of love he didn't cover and cities he didn't visit." Two more recent studies have taken Proust in other directions. Maryanne Wolf's Proust and the Squid (2007) borrows Proust's recollections of his childhood reading as entry point for, as her subtitle puts it, "The Story and Science of the Reading Brain." Jonah Lehrer's Proust was a Neuroscientist (2007) investigates how many important discoveries in neuroscience were anticipated by famous artists — Stein, Whitman, Cézanne, Stravinsky and, in the area of memory, Proust.
---
Daybook is contributed by Steve King, who teaches in the English Department of Memorial University in St. John's, Newfoundland. His literary daybook began as a radio series syndicated nationally in Canada. He can be found online at todayinliterature.com.