Great writers under covers.
---
By Robert Galbraith
A commanding mystery about an Afghan War vet-turned-detective probing the shady underbelly of the fashion world, The Cuckoo's Calling was extremely well-received upon its release – suspiciously well-received, since debut author Robert Galbraith had spent his life as an officer in the Royal Military Police. Even stranger, he also displayed a gift for describing women's clothing. After some investigation by London's Sunday Times, it was revealed that Galbraith is a pseudonym for none other than Joanne – J.K. – Rowling. Establishing herself as a worthy contender in the hard-boiled arena, Rowling joyously pulls us into this riveting tale that's packed with nail-biting suspense and an unforgettable sleuth.
---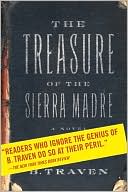 The Treasure of the Sierra Madre
By B. Traven
About the only thing anyone knows for certain about the mysterious author who called himself B. Traven is that he lived for many years in Mexico, which is where The Treasure of the Sierra Madre is set. In this rollicking tale of adventure, three Americans pan for gold and battle bandits in remote regions. John Huston eventually made the book into a 1948 Oscar-winning film starring Humphrey Bogart.
---
By James Tiptree, Jr.
Science fiction author Alice Sheldon wrote under the name James Tiptree, Jr., until her death in 1987 at the age of seventy-one. Adopting a masculine pseudonym allowed Sheldon access to a male-dominated genre, echoing the experiences of literary pioneers such as the Brontë sisters and Mary Ann Evans (George Eliot). This collection of the Chicago native's work showcases her unpredictable imagination and electric prose style, in such works as the milestone "Love Is the Plan, the Plan Is Death."
---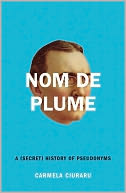 Nom de Plume: A (Secret) History of Pseudonyms
By Carmela Ciuraru
Ciuraru takes readers on a comprehensive and engaging journey through the minds and careers of more than a dozen famous authors — including George Sand, Mark Twain, and George Orwell — who wrote under assumed names. Along the way, we discover not only their reasons, both practical and deeply personal, for obscuring their true identities, but also the peculiar effects that using a pseudonym had on their lives.
---
By Richard Bachman
It was once believed that authors shouldn't publish more than one novel a year. But in the 1970s, Stephen King's prolific output gave the bestselling novelist reason to circumvent this axiom by inventing an alter ego, under whose name additional work could appear. Richard Bachman was born (the name was derived, in part, from Richard Stark, the pseudonym under which Donald E. Westlake wrote his popular Parker capers). This work of suspense is one of Bachman's most frightening narratives, centering around a reality television show in 2025 in which contestants put their lives on the line.