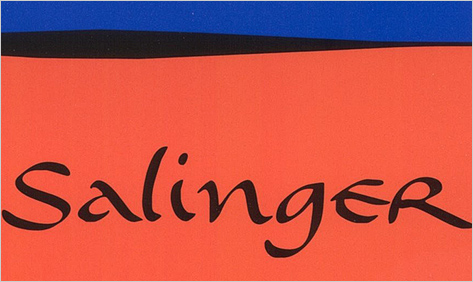 Editor's Note: Our brooding on the death of J. D. Salinger has been given fresh sustenance by the opening, at The Morgan Library, of an exhibition of the reclusive author's letters; even the soul of his privacy, it seems, has given up the ghost. Contributor Andrew Keen has been thinking about the public legacy of Salinger's pursuit of privacy in the context of today's world of social media. Herewith his thoughts.
Jerome David (J. D.) Salinger died late last month and the Internet was instantly struck with grief for this intimately unfamiliar writer. As the B&N Review noted:"his death at 91 has lit up the online world of literary blogs and Twitter feeds with quotations, tributes, and a collective attempt to mark what felt like the epochal passing of the author of The Catcher in the Rye and Franny and Zooey."
On the micro-blogging network Twitter, the science-fiction writer William Gibson, who tweets intimately to over 19,000 of his closest friends as @GreatDismal, offered a more cosmic observation about the deceased unknown celebrity:
GreatDismal: Salinger and the Streisand Effect: the singular potency of utter reclusivity. Black holes in the field of celebrity, their constant pull.11:49 AM Jan 28th from Brizzly
The "Streisand Effect" is a term invented by Mike Masnick, the founder of the technology website called Techdirt. Referring to the much-derided attempts in 2003 by Barbara Streisand to have photographs of her Californian house taken down from the Internet, Masnick described the "Streisand Effect" as the inevitable publicity associated with attempts to keep public information private.
For Gibson, therefore, "the singular potency of utter reclusivity" is celebrity: the more the artist hides, the more fame he acquires. That's the "constant pull," the "black hole" of the "Salinger and Streisand Effect." But I wonder if Gibson's understanding of the reclusive celebrity is a little nostalgic, more the opaque Xanadu of Charles Foster Kane than the all-too-public bedroom antics of Paris Hilton. Privacy is no longer a guarantor of publicity. The utter reclusivity of mid 20th-century celebrity has been replaced by the utter transparency of early 21st-century fame.
You see, in many ways things have changed considerably since January 31st, 1941, when The New Yorker ran a short story called "A Perfect Day for Bananafish" by an unknown writer called J. D. Salinger. In that old pre-digital media world, where all the authors needed to do was be authentic writers and leave everything sales and marketing to their publishers, Salinger could be distinguished by what Walter Kirn described in Rolling Stone as his "fanorexic" avoidance of fame. That was the world of clear dichotomies: between the reader and the writer and between the public and the private. Thus Salinger was able to confide to The New Yorker's Lillian Ross, "God, how I still love private readers. It's what we all used to be."
But what, exactly, should we make of Salinger's death in a social media world where fanorexia has, for better or worse, been replaced by fanophilia and more and more professional writers are using social media tools to bond intimately with their audiences? What becomes of the Salinger Effect when the latest social media technology is enabling and perhaps even forcing the contemporary writer to live more and more in public?
One answer came from Adam Hanft. "In an era where authorial relevance is increasingly measured by Facebook friends and Twitter followers," Hanft suggested in the B&N Review, "Salinger's willful, willed withdrawal reminds us of the reasons we were drawn to him in the first place."
But I'm not completely convinced either by Hanft's dichotomy between Salinger's inwardly "willful, willed withdrawal" and our outwardly fixated Facebook and Twitter culture. Instead, I suspect that today's technologically fuelled obsession with transparency is little different from J. D. Salinger's aesthetic of personal authenticity. With the not uncoincidental emergence of the democratized Internet as an intimate and personalized broadcasting platform, we can all make what Hanft calls Salinger's "ultimate adolescent statement (and fantasy) of going to your room, shutting the door and never coming out."
Salinger's disappearance, both in life and death, is less mysterious than it first appears. Perhaps he didn't need to write anything else in our real-time culture because the world had come around to his argument about "phoniness." Everyone on the Internet seems to want to have a bit of Holden Caulfield in them. In describing Salinger's values, Laura Miller, could have also been observing the highly individualized and libertarian culture of Twitter or the blogosphere: "In Catcher, every motif of America's famously adolescent national character burns bright: the moral absolutism, the inchoate chafing at any manifestation of authority, the romanticizing of innocence and childhood, a certain prudishness, and the conviction of personal exceptionalism."
The uncanny thing about today's real-time media world is that it embraces Salinger's aesthetic of intimacy, familiarity, and authenticity while being utterly foreign to Salinger's values in its immediacy and accessibility. That's the true Salinger Effect. Thus, the most popular writers on real-time Twitter are imitations of Holden Caulfield cuteness — Stephen Fry, for example, or Neil Gaiman — writers with hundreds of thousands of followers who have developed authentically intimate voices.
Take, for example, Fry who has amassed a mass readership on Twitter with such intimately public remarks to his 1,350,000 followers as:
@stephenFry: Well, I've arrived back at my cave. Rolling boulder back to lock me in till I'm done. Bye, tweeple. Sorry to have to leave again. x

@stephenFry: Back on Twitter for a few days. 1st to thank you 4 adorable V cards. Want to lick you all. Off to Barcelona for 3 days to host GSMA awards.
That's the great irony of today's real-time media revolution. Salinger's fanorexia, his relentless obsession with privacy and anonymity, is rooted in the same aesthetic as Stephen Fry's desire to lick his followers. Both want to be true — one through uncompromising opacity, the other through equally unqualified transparency. It's what Andrew Potter, the Canadian cultural critic, calls, in an upcoming book, the "authenticity hoax."
But much of what I'm describing isn't new. Writing in 1974, Richard Sennett grasped both Salinger's aesthetic and the cultural values of today's real-time Internet. In his The Fall of Public Man, Sennett argues: "The reigning belief today is that closeness between persons is a moral good. The reigning aspiration today is to develop individual personality through experiences of closeness and warmth with others. The reigning myth today is that the evils of society can all be understood as evils of impersonality, alienation and coldness. The sum of these three is an ideology of intimacy…."
Sennett correctly suggests that this ideology of intimacy explains the modern cult of the artist and the ideal of art as a way of "revealing the private." The so-called digital "revolution" — with its obliteration of all intermediaries between the artist and the audience — is really just one more triumph of this ideology. Marshall McLuhan famously said that the medium is the message. But actually messages are always one step ahead of the media, massaging new technology into culturally recognizable forms. The most striking thing about the Internet is its familiarity. That's why both artists and audience have embraced it with such vigor.
So would Salinger, one of the most skilled 20th-century ideologists of intimacy, be on Twitter? The truth, of course, is that Catcher in the Rye was Twitter before Twitter. That's why David Lodge, in the New York Times, describes Salinger as the "Pre-Postmodernist" whose narrative style seeks to "produce an effect of sincerity and authenticity — and humor."
"It looks easy," Lodge argued. "But it isn't." Yes, Lodge is right. And just as it wasn't easy for Salinger to make his writing appear real, so it's terribly difficult to successfully reveal oneself on the Internet. There are millions of wannabe writers on real-time media networks like Twitter and Facebook, but only a tiny handful of successful artists like Stephen Fry who have cracked the authenticity code, who appear — perhaps honestly, perhaps not — to be believably sincere.
No, it isn't easy. In an obituary of Irving Penn published last October on the Huffington Post, Adam Hanft compared Penn's "compositional clarity and economy" with Twitter's "expressive condensation." Both he argued can document what he called a "sacred ordinariness." For writers in the new economy, this is the holy grail. But perhaps the writer who came closest to this grail was J. D. Salinger, a writer who, in life and death, is intimately unfamiliar with our contemporary real-time culture.