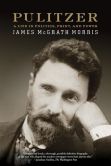 Joseph Pulitzer was born on this day in 1847. Pulitzer's biographers describe a transcontinental riches-to-rags-to-riches story, one central to any history of the Gilded Age. During his boyhood in Hungary, Pulitzer's wealthy and eminent family fell into poverty. With few options, Pulitzer emigrated to America as a teenage recruit for the Civil War; after the war he kicked about St. Louis, working at odd jobs and teaching himself English. By his early thirties he was able to buy the St. Louis Post-Dispatch, then a few years later the New York World; by his early forties he was a poster boy for the American Dream:
In a decade, Pulitzer had gone from hiding his last savings of $300 in a trunk to earning more than that amount every hour. With money, the Pulitzers had slipped easily into the society of wealthy American expatriates in Europe. They moved about, from Paris to London to St. Moritz, with an entourage of personal servants and nannies. Kate attended weddings with royalty and wore diamonds said to have belonged to Marie Antoinette. "And Mrs. Pulitzer has the right to wear them," said one newspaper. "Thirty years ago her husband was shoveling coal and driving drays, but his indomitable energy and active brain have placed him where he can afford to buy out half a dozen royal families."
The above is excerpted from the "Samson Agonistes" chapter of James McGrath Morris's Pulitzer: A Life in Politics, Print, and Power (2010). After a decade of relentless work, Pulitzer would spend his last quarter century not only blind but in forced relaxation, debilitated by a handful of medical problems — insomnia, diabetes, asthma, rheumatism, an acute sensitivity to noise, and bouts of severe depression. But his newspaper and his "yellow journalism" battle with William Randolph Hearst helped to define the age, and his Pulitzer Building was for a time New York City's tallest. "The reflection of its gilded surface could be seen for miles out to sea," says Paul Collins in The Murder of the Century: The Gilded Age Crime That Scandalized a City & Sparked the Tabloid War. "For immigrants coming to America, the first sight of their new land was not the Statue of Liberty but Pulitzer's golden beacon."
---
Daybook is contributed by Steve King, who teaches in the English Department of Memorial University in St. John's, Newfoundland. His literary daybook began as a radio series syndicated nationally in Canada. He can be found online at todayinliterature.com.