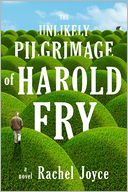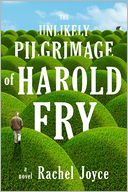 Dear Reader,
Like many New Yorkers, I prefer to get around the city on foot (when schedules and weather permit). I'm lucky enough to live in a neighborhood that's a short hop from the office, which leaves me with lots of walking-and-thinking time on either end of my day.
Even with my weekly mileage, I'm no Harold Fry.
The Discover selection committee readers absolutely loved Rachel Joyce's debut novel, The Unlikely Pilgrimage of Harold Fry (on sale 7/24). Some were reminded of Major Pettigrew's Last Stand, a Summer 2010 Discover pick, while others were drawn to Joyce's modern take on the picaresque. But to a man and to a woman, all of the readers loved Harold Fry, the man, and his extraordinary walk.
Advance reviews have been terrific, and among the novel's early champions is Helen Simonson, author of Major Pettigrew's Last Stand: "Marvelous! Oh, to be a pilgrim in yachting shoes and waxed cotton jacket, fueled only by a sudden burning need to save a dying friend. Harold Fry is infuriating, hilarious, and completely out of his depth, but I held my breath at his every blister and cramp and felt, as if by turning the pages, I might help his impossible quest succeed," she writes.
Rachel Joyce discusses writing about the things she believes in, ordinary people, and the search for something bigger in life, among other things, with Discover Great New Writers.
What inspired you to write The Unlikely Pilgrimage of Harold Fry?




This story began as a radio play that I wrote (in secret) for my father when I knew he was dying of cancer. I never told my dad I was doing this for him — and I think I knew he would never find out. But I suppose I wanted to write about a man keeping alive a person he cared for, at the point that I was losing someone I very much wanted to keep. I loved making my dad laugh too. He was an extremely witty man. I also wanted to write a story about the things I believe in — about the very simple and complicated business of being human, I suppose.

Some of the locations Harold passes through are based on your own favorite places. What are two of those places?




The barn where Harold first sleeps out is very near our house, which is on the edge of a valley near Stroud. I pass this barn every day and it is a very average old thing — corrugated iron, tarpaulin, bricks. But I love it because it is what it is. It hasn't been converted to a house with wide-reaching views. It smells of diesel and hay and if you peep through the bars you can see right across the valley. I also have a special affinity with Kingsbridge, in South Devon, where Harold begins his walk — and Maureen waits for him — because my husband was brought up there. Whenever we visit we have crab sandwiches by the sea.

What was the hardest part of writing this story?




The hardest part was going back to it every day and writing; to keep believing in a story only you know and to give all that time, all that thought, all that spirit to it, when you don't even know anyone will pick it up and read it. In that way, Harold's journey and mine are very similar. They were both about putting your faith in something unlikely.

You say you want readers to think of Harold as an Everyman. In what way can his journey relate to every person?




I think there is a part in all of us that is looking for something bigger — maybe it is the nature of being human that we seek to make sense of things that don't make sense at all. I also think that we all know what it means to lose people and things you want to keep. We know what remorse is and we also know how good it feels to connect. Essentially Harold sees himself as ordinary. I think that is true for most of us.

Who have you discovered lately?




Elizabeth Strout is just about my favourite discovery recently. This year I have also discovered several books by favourite authors of mine — including Jeanette Winterson's Why Be Happy When You Could Be Normal? and The Return of the Native by Thomas Hardy. My husband is reading James Hillman and can't resist quoting me excerpts when I am trying to concentrate on reading of my own. I find Hillman's ideas fill my head to bursting.
Cheers, Miwa
---

Miwa Messer is the Director of the Barnes & Noble Discover Great New Writers program, which was established in 1990 to highlight works of exceptional literary quality that might otherwise be overlooked in a crowded book marketplace. Titles chosen for the program are handpicked by a select group of our booksellers four times a year. Click here for submission guidelines.