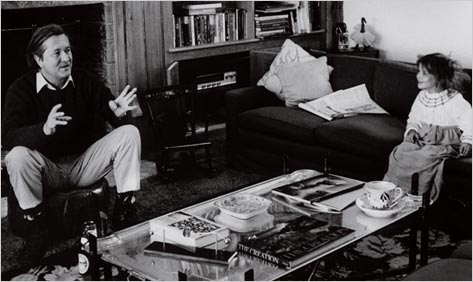 Afterwriting four novels, including TheConfessions of Nat Turner and Sophie'sChoice, William Styron wrote a heart-rending account ofdepression, Darkness Visible. His daughter, Alexandra Styron, has written herown memoir, Reading My Father, described on its jacket as a "journey towardunderstanding and forgiveness." In its first chapter, she writes that, asshe spent weeks alone with her father while her mother traveled and oldersiblings attended school, she hid "failings and fears behind a . . . maskof self-sufficiency." So I expected a recovery story about being relatedto a famous genius. However, while Alexandra Styron mentions her well-developed"carapace," nothing she recounts about herself or her siblings—theygrew up to have long marriages, impressive careers, abiding affection for eachother—suggests that more than ordinary forgiveness is necessary, the kind mostof us stumble toward when we see our parents as human. Reading My Father isn't Daddy Dearest. It's a stellar biography,informed by memory and careful research.
Billy Styron, a child ofthe Great Depression, roamed the house while his father worked and his motherdied a death so agonizing he heard her scream. His father later married a womanwho sent Billy away. She mocked him—"Billy thinks he's a writer."—andsent a letter to his fiancée, Rose Burgunder, whom she'd never met, warningRose not to marry him. Rose ignored the letter. Though she had money and anadvanced degree, gender assumptions—including the myth of the Great Man aroundwhom the woman orbits—meant that she became a lonely mother, a betrayed wife, afamous hostess. By today's standards, William Styron self-medicated too much. Atthe time, however, drinking to avoid pain while creating objective correlativesfor pain, was SOP. His best friend told Alexandra Styron that her father was "spoiled."Then added: "Your father was a real artist. . . You have to indulgesomebody like that." Alexandra's own friend, who balances fatherhood with awriting career, put it differently: "Your father's generation, I call themthe Big Babies."
Big Babies made Big Art. Styron'sbooks were simultaneously literary and mass-market. A divide separates WilliamStyron's era from his daughter's—one so deep it signifies seismic change. WilliamStyron took a night class from a teacher who was also an editor at Crown, whooffered Styron a contract for a yet-unwritten book. This editor providedgenerous advances, found Styron cheap places to live, and, when Styron wascalled up for the Korean War, procured a deferment until Lie Down In Darkness was finished. It won international awards. Styronwas 26. "Boy writer! Boy writer!" Bennett Cerf whispered.
Today, by contrast, it'sbarely hyperbolic to say that almost as many people write books as buy them,and editors are buried under an avalanche of good manuscripts. But WilliamStyron's writing was exceptional. A white Southerner in the midst of the civilrights movement, he made Nat Turner not a martyr, not a bloodthirsty firebrand,but human. In Sophie's Choice, hedepicted a Holocaust survivor as both victim and accomplice. He wrote Darkness Visible when mental illnesswasn't visible. Styron was an "author" in the etymological sense:leader, enlarger, founder, authority. (Today we just say "writer.")
While researching thisbook, Alexandra Styron found thousands of scrambled pages for unfinishednovels. "It's like A Beautiful Mind in there," she told her sister. She wonders:did her father's inability to finish novels make him depressed, or did hisdepression keep him from finishing novels? His long-time editor said, "Illnessmade it impossible. . . Not the other way." But Alexandra Styron knows thenovel was her father's "all-consuming artistic imperative." When hedied, he hadn't published a novel in twenty-seven years. He'd written or triedto write, meanwhile presiding over a "banquet of positive attention"that kept him from focusing on the diffuse threads and through-lines that eventuallyinterlock to make a novel. To comprehend how distracting his celebrity mighthave been, consider that the list of those who sought his company included thePresident and Mrs. Kennedy, Joan Baez, Montgomery Clift, Leonard Bernstein,Frank Sinatra, and James Baldwin.
For William Styron,writing was the "bid to be loved." His family did love him throughyears of neglect and then all-out dependency, but he was never happy long becausehe was happiest being celebrated. Even for a writer as talented as he was,accolades are rare. Solitude and self-doubt are constant. Some self-doubt isgenerative: too much is crippling. It's hard not to wish that William Styroncould have been happy having written five books, three of which not onlydepicted history but influenced it. Or not to notice that Alexandra Styron—whohas written one good novel and this extraordinarily sensitive biography of herfather—has done for him what he did for Nat Turner and Sophie Zawistowski: shefound the human behind the carapace.